Blue Yeti Microphone Review: Is It Worth It?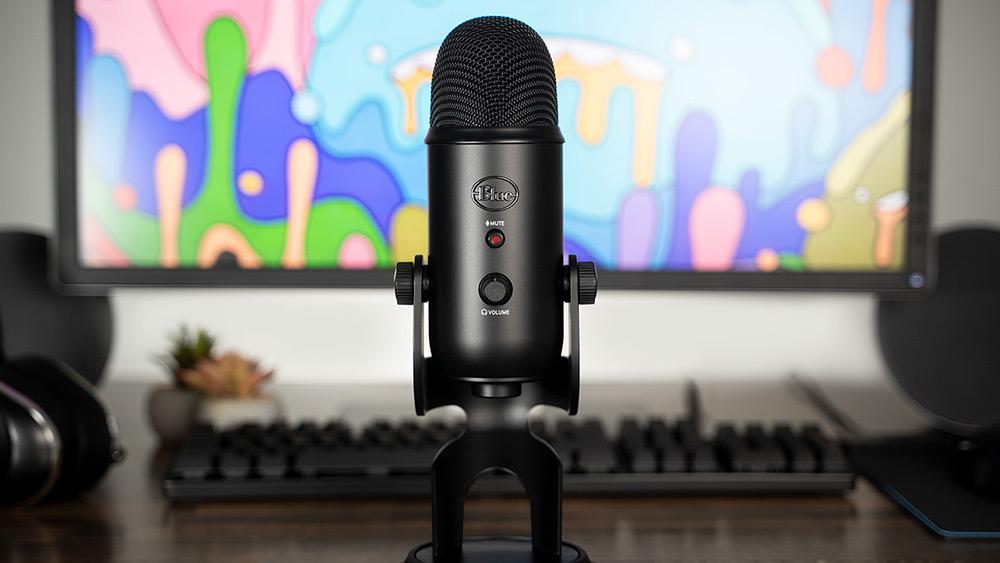 You've probably heard of the Blue Yeti Microphone because it's one of the best-selling USB microphones online. Since its release, the Yeti has been considered the best USB microphone by novices and pros alike. It's praised for its excellent sound quality, professional features, and simplicity.
With that said, are Blue Yeti mics good for podcasting? Is the Blue Yeti good for streaming?
In short, the Blue Yeti microphone is perfect for anyone looking for a professional quality microphone for podcasts, game streaming on Twitch, YouTube videos, music vocals, or even recording ASMR. It's ideal for beginners who want an easy-to-use USB microphone with premium features without the premium price tag.
So, what settings, features, and alternatives should you be aware of before making a decision? Read our in-depth Blue Yeti microphone review to find out everything you need to know.
Pros
Cons
+ Great sound quality
+ Solid build quality
+ 4 polar patterns
+ Plug and play
+ Great price
– Too sensitive
– Weight
– No XLR output
– No multi-head setup
– Not portable
Key Specs
Connection: USB
Ports: USB-C, 3.5mm aux out
Condensers: Three 14mm condenser capsules
Directional patterns: Cardioid, Bidirectional, Omnidirectional, Stereo
Size: 4.7 x 4.9 x 11.6 inches
Weight: 3.4 pounds
Price
How much is a Blue Yeti USB Microphone? It currently sells for less than $129 bucks. However, if you want to bring the cost down and don't care about aesthetics, some colors are less expensive than others. For most people, the Blue Yeti is the best option at its pricing point. If you check for microphones under $100, you'll see that they miss some of the features found on Yeti Blue microphones. If you want something that sounds better, you'll have to spend a lot more money on a complicated setup like an XLR mic and an audio interface. USB microphones have the advantage of being significantly less expensive and easier to use.
Size and Weight
By no means is the Blue Yeti a small microphone. It's composed of solid metal and stands nearly a foot tall, weighing approximately three and a half pounds. The Yeti can fold down, making it easier to store or pack. However, its sturdy construction will take up a lot of room in a backpack. Because of its somewhat large size, it's still primarily designed to stay put on your desk.
Polar Patterns
The Blue Yeti microphone pattern settings are one of its most notable features. The Yeti has three proprietary 14mm condenser capsules that let you choose between the four distinct polar patterns to customize how sound is picked up. The four polar patterns are Cardioid, Stereo, Omnidirectional, and Bidirectional:
Cardioid Mode
Cardioid Mode is the most popular setting on the Blue Yeti mic. This polar pattern picks up sound sources directly in front of the microphone and minimizes sound from the sides and back. This setting produces a full, rich sound ideal for YouTube, gaming, podcasts, and voice-overs. Cardioid Mode is also good for recording vocals and solo instruments.
Stereo Mode
Another popular setting on the Blue Yeti mic is Stereo Mode. It picks up sounds from the left and right of the microphone and reduces the amount of sound picked up directly in front and behind it. Stereo Mode captures a wide stereo field making it ideal for recording music duos, choir, and multiple instruments. You can also use Stereo Mode to record ASMR videos when paired with a Pop Filter.
Omnidirectional Mode
When recording large groups of people, Omnidirectional Mode is an ideal setting. This polar selection captures sound sources from all sides of the microphone equally well. It produces an "as if you were there" sound perfect for recording conference calls, bands, or multi-person podcasts. If you prefer to capture an environment's soundscape, Omnidirectional Mode is also suitable for recording ambient sound.
Bidirectional
Bidirectional is the best setting for recording two people. This pickup pattern isolates sounds from the front and back of the microphone while limiting sounds from all other directions. It can produce cozy recorded conversations between two people. Bidirectional is ideal for two-person podcasts and interviews, where the guest and interviewer are seated directly across from one another.
Read more: Best Dynamic Microphones
Sound Quality
Now that you know all about the four different polar patterns let's talk about the Blue Yeti's excellent sound quality. The Blue Yeti's integrated preamp and analog to digital converter amplifies and converts incoming signals to digital before delivering them to your computer. That means you won't need any extra gear to start recording.
The Yeti records in 16-bit at 48 kHz, making it great for capturing voices, vocals, or musical instruments. It records audio in its natural state with various pitches, tones, and clarity when positioned correctly.
There are a few best practices to follow in order to get the best sound quality from your Blue Yeti microphone. First, place the microphone on a desk or any flat surface before you begin recording. Next, maintain a distance of 3 to 4 inches from the microphone. Consider purchasing a Pop Filter if you find yourself getting too close to the mic. A pop filter will help to reduce plosives in your audio caused by 'p' and 'b' words.
The Yeti is a sensitive microphone with a 20Hz – 20kHz frequency response. It can pick up even the most subtle sounds in the background. If the Yeti picks up a lot of unwanted noise while recording, such as keyboard typing, mouse clicks, and computer fans, you might want to invest in a Foam Windscreen. Finally, speak clearly and confidently into the microphone so it can capture the full range of your voice, vocals, and tones.
Gain Control
The Blue Yeti has a dedicated gain control knob, which is helpful. Gain is how you adjust the sensitivity of your mic and the volume of your recording. You'll want to set the correct gain level using the knob on the back. The mic will get louder and more sensitive as you increase the gain. Create a few test recordings and check your audio levels to ensure they're high enough but not peaking into the read levels of your recording software. If you plan to record in Cardioid Mode, try to reduce background noise as much as possible for the best results.
Volume Control and Mute Button
The Blue Yet features an instant mute button on the front of the microphone. You can use the mute button if you need to break in the middle of a recording or you want some privacy when live streaming. The mute button will be solid red when the mic is turned on and connected to your computer. The mute button will blink red when you turn it on, indicating that you are not recording audio. Just below mute is the headphone volume knob. Using this control, you can adjust the volume of your headphones. These onboard audio controls put you in charge of every level of the recording and monitoring process.
Headphone Output and USB Port
The headphone output at the bottom of the Blue Yeti allows zero-latency real-time monitoring of your recording or streaming. You can also monitor your recording levels to avoid peeking, which is a vital function to have on a microphone. What's unique about the headphone out is that you can use it to monitor your mic levels and listen to your computer's audio. This is possible due to the Yeti's built-in dedicated amplifier and converter. What kind of cable does the Blue Yeti use? The bottom of the Yeti also has a USB port to connect and includes a standard USB to Mini USB cable that's compatible with both PC and Mac. There are no drivers or software to install. Simply plug it in and begin recording.
Stand
The Blue Yeti comes with a strong and sturdy desk stand. The Blue Yeti microphone stand allows you to fold down the mic for simple portability. A firm foam on the bottom of the stand keeps the mic in place and helps to absorb vibrations. The Yeti doesn't move around on the desk when it's being used. You can also remove the Yeti from its included stand altogether. To detach the Yeti from its base, simply remove the screws from the left and right sides of the microphone. The bottom of the Yeti has a standard thread mount, which you can connect to a different mic stand. To achieve optimal mic placement and free up desk space, use the Compass Premium Microphone Boom Arm and Radius III Shockmount.
Software
The Blue Yeti microphone now comes with Blue VO!CE, voice modulation, and enhancement software. Content creators and streamers can change voice capture on on-the-fly with this audio editing software. They can adjust noise reduction and reverb, including adding different kinds of vocal effects and the ability to transform them entirely.
Blue VO!CE is a terrific way to make sure you sound excellent while live streaming, and it gives you similar capabilities to post-processing so you can sound your best. You can assign buttons via Logitech's G Hub software if you're a gamer who already has a Logitech G keyboard, mouse, or headset. You can then use these buttons to play HD audio samples from the Blue VO!CE software and ones you've recorded yourself to improve the quality of your stream.
Final Thoughts
The Blue Yeti USB Microphone is a great way to improve the sound quality of your recordings at an affordable price. This microphone is a must-have if you use your home studio to record podcasts, voice-overs, game streaming, or vocals. While the Blue Yeti may appear to be the only USB microphone worth considering, this is no longer the case.
There are plenty of solid alternatives available, such as the Shure MV7 and Rode NT-USB. Those looking for a full-bodied sound for podcasts, voice-overs, and video commentary will find a lot to like in the Audio-Technica AT2020USB+. Gaming streamers will probably love the HyperX QuadCast and Elgato Wave 3. For travel, the Blue Yeti Nano offers the same excellent audio quality as the original Yeto within a more compact size with fewer recording modes.
So, is the Blue Yeti microphone worth it? The Yeti has a simple setup, top-notch build quality, many features, and excellent sound quality. If you're looking for a microphone that does it all, I can confidently say the Blue Yeti is still the best option.
GadgetAudio.com is reader supported. We may earn a small commission from affiliate links in this article. As an Amazon Associate, we earn from qualifying purchases. Learn more.