M-Audio Uber Mic Review: Should You Get One?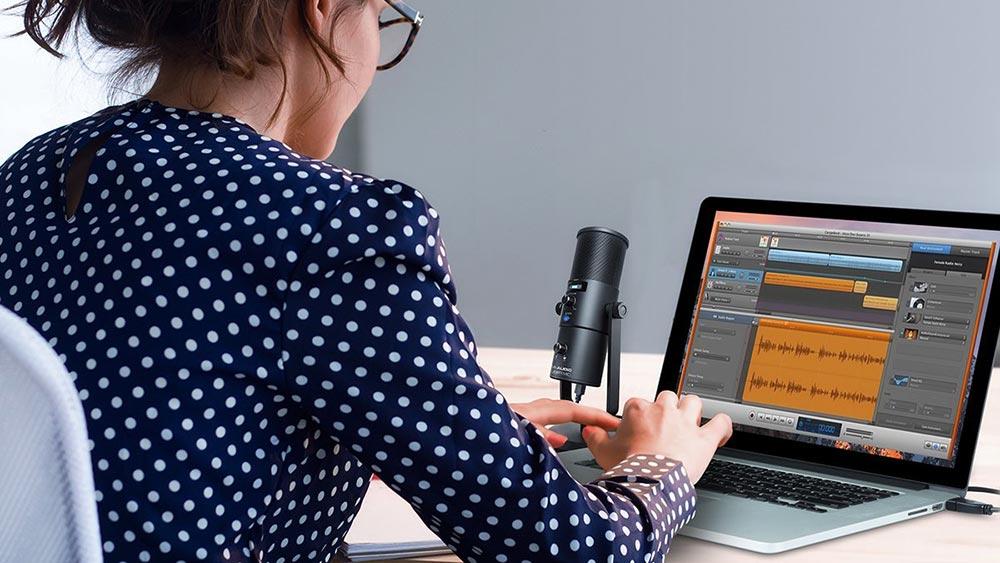 The M-Audio Uber Mic USB Microphone offers high-quality audio recording with switchable polar patterns and zero-latency monitoring. The quality of USB microphones is steadily improving, with more models being introduced that are good enough to use in the studio.
The Uber Mic boasts an impressively wide range of features and costs less than the competition. In our M-Audio Uber Mic USB Microphone review, we'll go over all of the features and specs, as well as tell you who this microphone is best for.
Pros
Cons
+ Good sound quality
+ Good build quality
+ 4 polar patterns
+ USB/direct mixing control
+ Works well with streaming apps
– Flat lower frequencies
– Picks up vibrations
– No shock mount accessory
– Pop filter is not included
– Weight
Key Features
One of the M-Audio Uber Mic's standout features is the ability to adjust polar patterns. The Uber Mic is a large-diaphragm 3-capsule condenser microphone. It offers a choice of four different polar patterns, which makes it easy to customize how the microphone picks up sound. A polar pattern knob on the rear of the Uber Mic allows you to switch between Cardioid, Omnidirectional, Figure 8 (Bidirectional), and Stereo modes.
Polar Patterns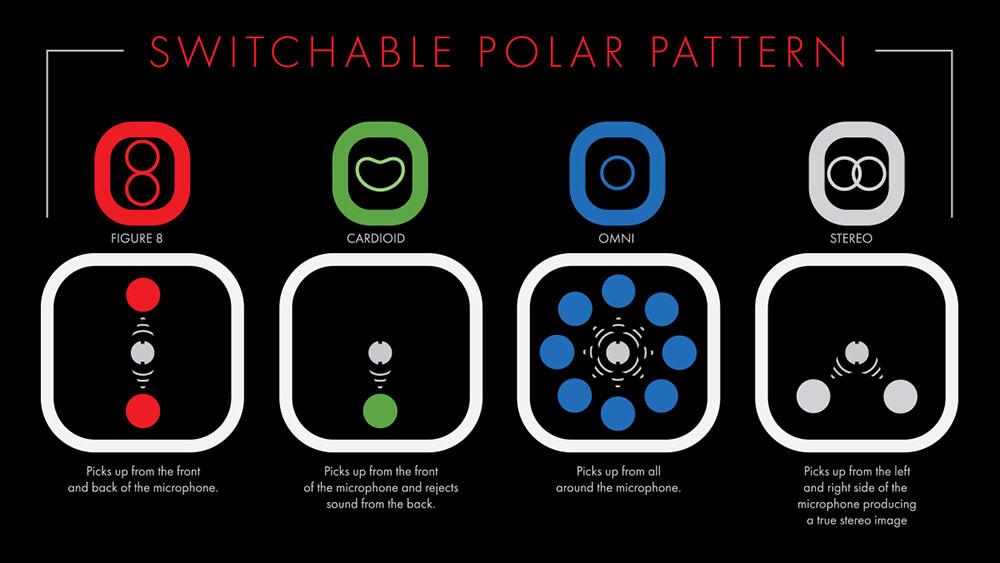 Cardioid
Cardioid is a directional pattern ideal for capturing single sound sources while reducing reflections in rooms and background noise. It's perfect for podcasting, webinars, gaming, and streaming because it concentrates the pickup pattern to the front.
Omnidirectional
When using an omnidirectional pattern, sound sources from all directions are captured with equal output and sensitivity. It's best for conference calls and large groups of sound sources. It adds some ambiance to recordings where sound quality isn't as important.
Figure 8 (Bidirectional)
Figure 8 (Bidirectional) allows the microphone to have the same output/sensitivity on both sides. It's ideal for in-person interviews where you need to capture two independent sound sources simultaneously, but using two microphones is not an option.
Stereo
Stereo allows you to capture sound sources from the left and right sides of the microphone, resulting in a true stereo image. This is the best option to record instruments if you require a clear separation of left and right channels.
Quality Audio
The M-Audio Uber Mic competes directly with the Blue Yeti USB Mic and Shure MV7. While the Uber Mic's digital audio conversion is limited to 16-bit resolution, the frequency response is a standard 30 Hz – 20 kHz, and sample rates up to 48 kHz are supported. The frequency response captures the nuances of voices and instruments and gives users the broadcast standard for media playback.
LCD Display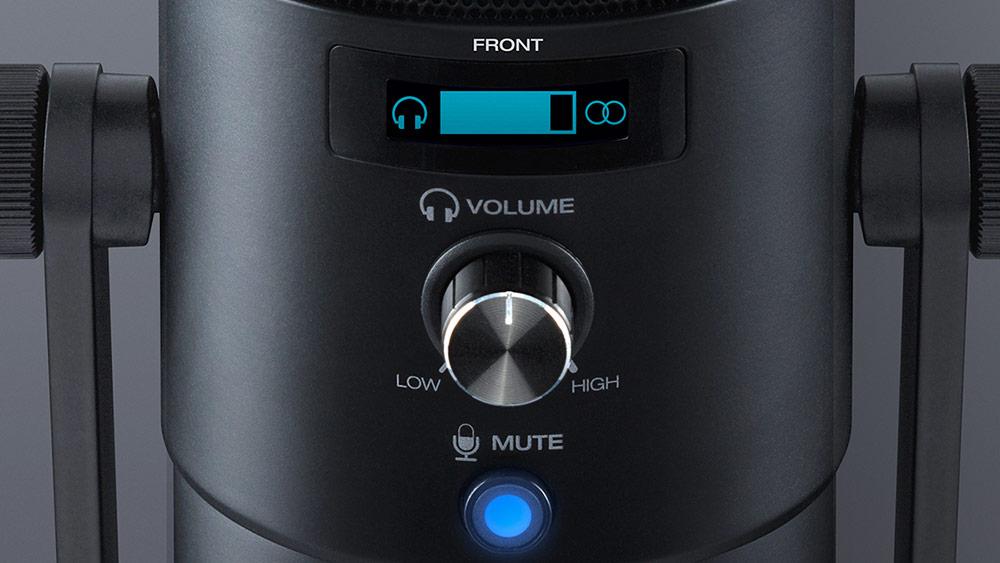 You'll find a small built-in LCD display on the front of the M-Audio Uber Mic. This screen shows the polar pattern, so you can visually see how the microphone is picking up sound. The screen also has a handy meter that displays the currently selected control level to ensure you stay in the correct range.
Headphone Volume Control and Mic Mute
A nice feature of the Uber Mic is that it has a headphone volume knob and microphone mute button to ensure privacy during live broadcasts.
Gain Control
The mic gain knob can increase the microphone's sensitivity so that you can adjust the gain and volume easily and quickly. This is controlled by a dial below the polar pattern knob. Turn the gain down to effectively reduce typing and mouse click input. Turn the gain up to make your voice more magnetic to others, ideal for gaming, chatting, and Zoom meetings.
USB/Direct Mixing Control
The Uber Mic moves ahead of the pack with its dedicated USB/direct mixing control. The USB/direct mixing control enables zero-latency recording and monitoring. With this functionality, users can hear recorded audio in real-time, bypassing the latency caused by computer processing.
Headphone Output and USB Port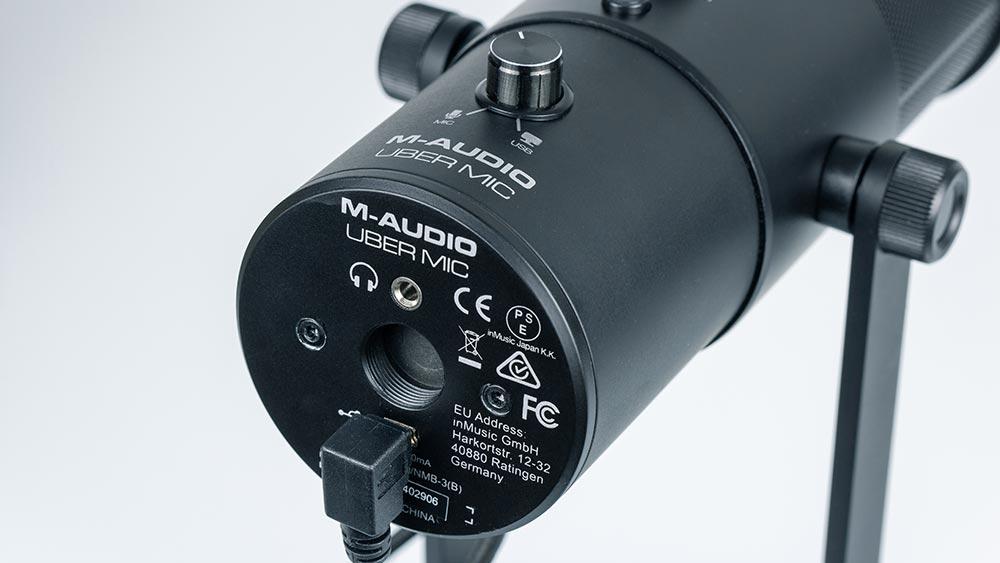 You'll find a mini-USB port to connect to your computer and a 3.5mm (1/8″) TRS/stereo headphone output for zero-latency monitoring on the bottom of the Uber Mic. You also get a USB to USB Mini-B cable included. The M-Audio Uber Mic USB microphone with headphone output delivers crisp sound with its internal headphone amplifier.
Related: How to Connect an External USB Mic to a DSLR Camera?
Microphone Stand
A nice feature to have is the integrated desktop stand which can be conveniently removed. The Uber Mic also features a 5/8″-27 threaded insert on its base that is compatible with an optional boom stand. A microphone stand extender is also included.
When you touch the mic stand, desk, or type something on your keyboard, you'll hear it through the microphone. It's due to the microphone's solid body and lack of shock absorption. In this situation, a shock mount would be very beneficial.
Software
The Uber Mic comes with the beat-making software MPC Beats and 80 effect plug-ins provided by AIR and Touch Loops. It's not a significant bonus considering that you can download MPC Beats for free from the official website. Still, MPC features all the necessary tools to make great beats quickly. Mixing 2 gigabytes of samples, ranging from ambient synth loops to drum one shots. The software is a valuable feature for a large portion of this mic's intended audience, such as musicians. For recording and editing, Audacity is free and easy to use.
Final Thoughts
The M-Audio Uber Mic is well constructed, delivers quality audio, and is compatible with most digital audio workstations (DAW). It comes with a long USB to USB Mini-B cable, a weighted base with a padded bottom, and a 2-inch microphone stand extender. Compatibility is not an issue. The Uber Mic is compatible with Windows 7 or higher and Mac OS X 10.10.5 or higher.
The Uber Mic is an excellent choice if you want the flexibility to record in different polar patterns, want built-in gain control, and have a quiet space to record. It's worth getting if you're on a limited budget and need a microphone for various tasks, though it does face direct competition from the Blue Yeti USB Microphone.
The Yeti also has four switchable polar patterns, but handles low frequencies slightly better and sounds fuller than the Uber Mic. Whatever USB microphone you choose, I highly suggest using it with a shock mount and a high-quality boom arm to reduce computer vibrations and desk bumps.