Which Pop Filter Is Best For Blue Yeti?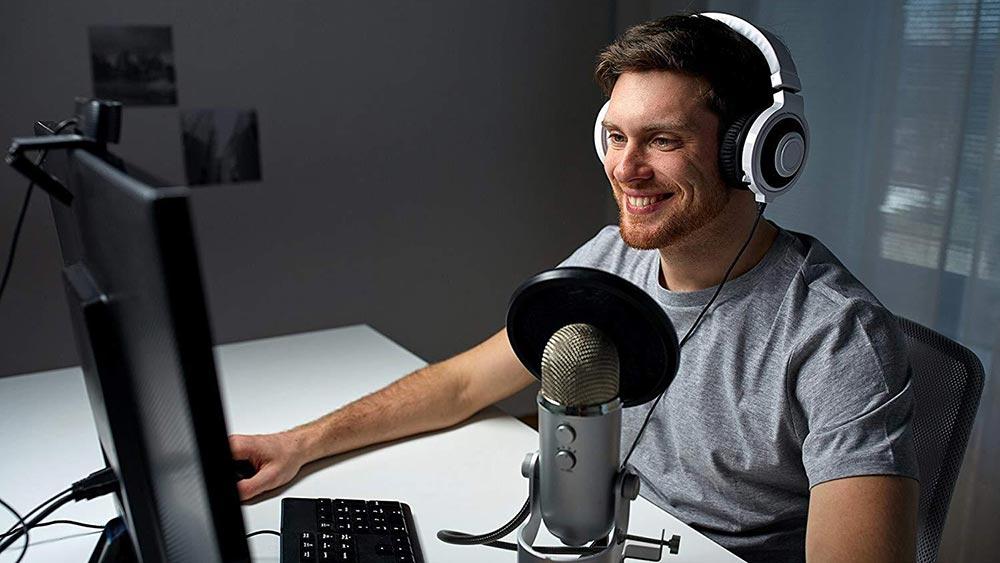 Whether you've just bought a Blue Yeti microphone or are in the early stages of consideration, a pop filter is an essential accessory. Pop filters are necessary to capture pristine vocals, audio for video, podcasts, and more.
However, not all pop filters are compatible with the Yeti's unique table stand design. With so many different pop filters on the market, it can be tough to decide which is best for the Blue Yeti. Our team tests audio accessories frequently, so we know which pop filters and windscreens work best.
Here are our top picks for the best Blue Yeti microphone pop filters:
What Is a Pop Filter?
What is a pop filter? One of the biggest challenges artists and creators face when recording vocals and speech is controlling plosive consonants. Plosives are 'p' and 'b' sounds resulting in a puff of air that comes across as a big thump in the microphone signal. Those thumps are challenging to remove after the fact, and you can't really equalize them out. 
Using a pop filter is the best way to deal with plosives. A pop filter is a screen typically made of fabric or metal that diffuses puffs of fast-moving air and prevents it from coming through and hitting the microphone's diaphragm.
Pop filters are made of one or more layers of semi-transparent material, such as woven nylon. Instead of nylon, metal pop filters use a fine mesh metal screen.
What Does a Pop Filter Do?
Pop filters reduce the energy of fast-moving air from plosive consonants, which would otherwise exceed the microphone's input capacity and cause clipping.
You won't have any loud thumps or clipping in your recordings if you use a pop filter correctly. In addition, you won't have to worry about editing them out. A pop filter can also protect against the accumulation of saliva on the microphone element. Microphones can be corroded by salt in saliva. Adding a pop filter can help them last longer.
How Close Should The Pop Filter Be to The Mic?
How close should the pop filter be to the microphone? You should position a pop filter 4 to 6 inches away from the microphone for best results. It's also good to slightly angle your pop filter to prevent sound reflections between the screen and microphone capsule. Sound reflecting back to the microphone can cause "comb filtering," which are unwanted peaks and troughs in the frequency response.
It's also worth noting that large pop filters sound more transparent than small ones. The ring that holds the fabric may also introduce sound reflections with small pop filters. On the other hand, large pop filters have an outer ring further away from the mic capsule.
Read more: Best Dynamic Microphones
Pop Filter or Windscreen, Which Should You Buy?
Pop filter or windscreen, which should you buy? First, it's important to know what is the difference between a microphone windscreen and a pop filter.
Pop filters reduce or eliminate plosives and saliva spraying while recording or streaming, resulting in more precise sound. A windscreen is typically a thick piece of foam that surrounds a microphone. It blocks unwanted background noises and protects your mic from saliva that can accumulate over time.
When deciding between a pop filter or windscreen, it ultimately comes down to what you plan to do with it. If you use your mic where unwanted background noise is a concern, a windscreen will do better than a pop filter. A pop filter is your best bet if you just want to filter out those unpleasant 'p' and 't' noises.
Do You Need a Pop Filter and a Windscreen?
You don't have to use a pop filter and a windscreen at the same time, but it may be helpful depending on your situation. You'll have to decide which filter to use based on where you plan to record. Pop filters are typically used indoors in a studio environment, while windscreens are used outdoors.
Shotgun microphones, for example, come with windscreens because they are more susceptible to plosives than other kinds of mics. Yet, some shotgun mic owners that record in the studio select to use a pop filter for voice-over work. New shotgun microphones no longer need a pop filter. Since users do not typically speak directly into a shotgun mic, the windscreen efficiently eliminates plosives.
What Type of Pop Filter is The Best?
The best type of pop filter depends on the size, shape, and manufacture of your microphone and your recording situation. If you're using a microphone to shoot YouTube videos, a large pop filter can partially block your face. Conversely, a large pop filter will likely not be a problem when podcasting or recording vocals.
Another thing to consider is that some pop filters, like pop shields, are only compatible with mics of a specific size and shape. Other pop filters have an adjustable gooseneck and clamp to fit anywhere you place your microphone.
GadgetAudio.com is reader supported. We may earn a small commission from affiliate links in this article. As an Amazon Associate we earn from qualifying purchases. Learn more.