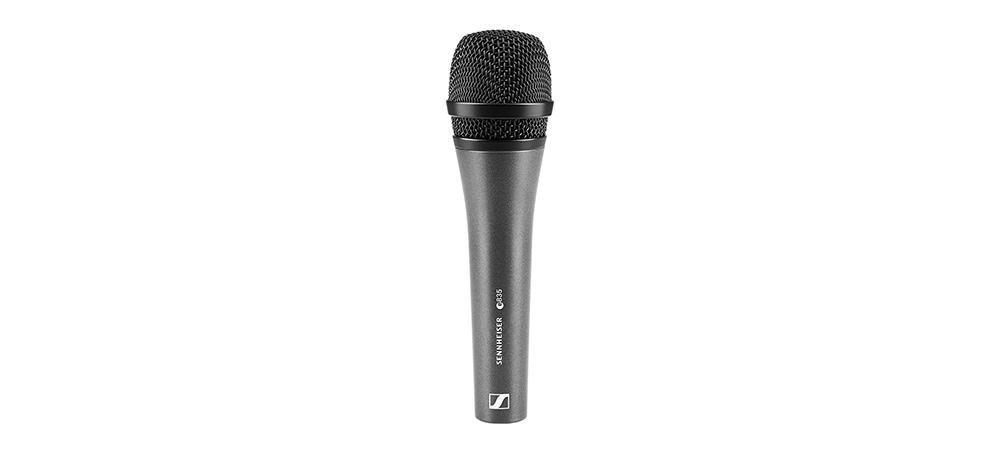 The Sennheiser e835 is a solid and affordable vocal mic that sounds fantastic during live performances. This dynamic microphone accurately captures all the high and low tones thanks to its built-in presence boost. In live performances, the e835 can handle a significant amount of gain-before-feedback. But having said that, the mic is relatively flat in the midrange, which can leave it lacking character.
Affordable
Easy to use. Good off-axis performance
Excellent performance for vocals
Balanced low end
Advanced internal shock mount and humbucking coil
Relatively flat in the midrange
Sound Quality
Sennheiser e835 is a dynamic microphone with a wide cardioid pattern. As a result, it has a minimal proximity effect and is quite forgiving if the talent veers off-axis.
This microphone is incredibly simple to use, making it perfect for presenters, churches, and events. The e835 has an XLR port for connectivity, making it compatible with just about any board or mixer.
The Sennheiser e835 has a well-balanced low end and excels at handling speech. The effects of proximity are negligible, and talent will never experience boominess. Voice sounds natural and clear. E835 makes it very easy to cut through the mix due to its bright response and robust in-your-face presence.
Vocals are very well received, whether performed live on stage or in a more relaxed studio setting. Even when you start moving away from the mic sound is crisp and robust. In addition, the mic can handle a significant amount of gain-before-feedback during live performances.
The e835 performs well when recording instruments. It handles everything from drums to electric guitars with its high SPL (150dB).
The e835 has a frequency response range of 40 Hz to 16 kHz, making it wider on the top end than many of its direct competitors.
The mic is flat in the midrange until around 200 Hz making it versatile but sometimes lacking character. It's not surprising that this dynamic cardioid mic performs exceptionally well off-axis, given how well it handles noise and feedback rejection.
The e835 has an advanced internal shock mount and humbucking coil. The two noise-reducing features work well together to ensure that the microphone only picks up your voice and has no handling or unwanted hum.
Build & Durability
Its sturdy construction is comparable to that of more expensive Sennheiser models. The e835 has a sleek handheld design with a solid black grille and a dark grey all-metal body. Sennheiser maintains low costs and high simplicity by omitting all switches from the body. In the end, it's a cozy and sturdy little mic that can withstand any abuse you can dish out on stage.
The price of the Sennheiser e835 (under $100) is very appealing and offers reasonable performance value. It has a lot to offer beginner to professional stage performers on a tight budget.
Verdict
The Sennheiser e835 impressed me with its simple setup, sound-quality sound, balanced low end, advanced internal shock mount, and affordable price.
The e835 has a standard XLR audio output, which makes it perfect for live performances. The mic captures all the high and low tones thanks to its built-in presence boost. While the e835 may appear to be the only stage microphone worth considering, there are alternatives to consider.
The Shure SM58 Vocal Microphone is an obvious alternative for those considering a vocal microphone. Is Sennheiser e835 worth it? The e835 gives you what you need if you're looking for a versatile, dynamic microphone with great sound quality.