10 Best Dynamic Microphones 2023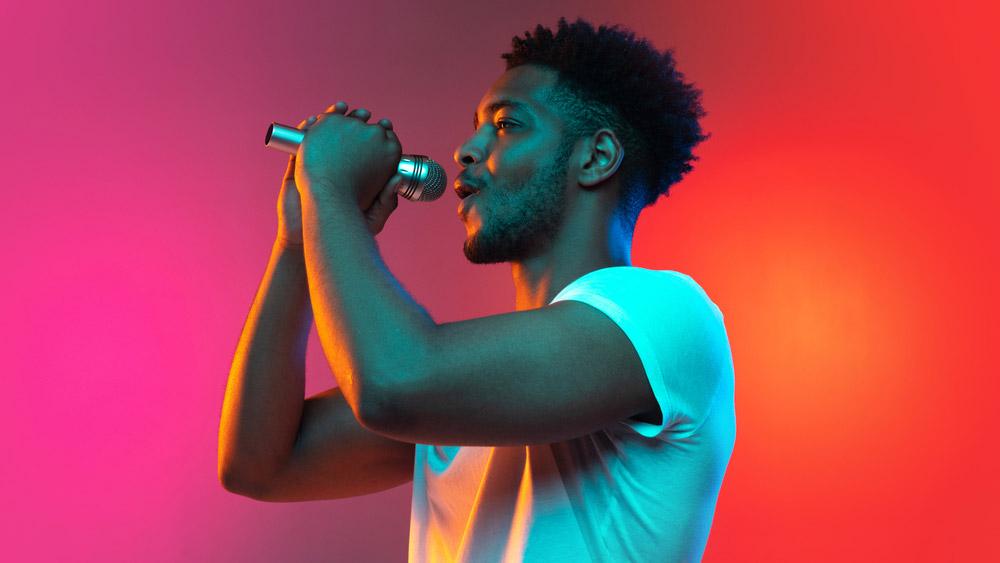 Dynamic microphones are highly sought after by podcasters, singers, and musicians because they can record voices, vocals, and instruments at loud volumes without distortion and background noise.
There are lots of dynamic microphones on the market. But when there are so many to choose from, how do you know which one is right for you? Each model has its advantages and disadvantages depending on the type of recording you intend to make. While some microphones have exceptional sound quality and tone, others excel at being durable, handling background noise, and minimizing plosives.
Here, we round up the best dynamic microphones you can buy right now, explain why we believe they are the best, and reveal what you should keep in mind before buying one. The microphones aren't listed in any particular order. We just want to provide you with a range of solutions for your different recording needs, including both high-end and low-cost options. Let's take a look at the top ten best dynamic microphones.
Best Dynamic Microphones at a Glance

For live performances and studio recordings, Shure's SM58 is one of the most popular microphones on the market. It was designed with professional vocal use in mind. On or off stage, this mic's performance is outstanding.
The cardioid pickup pattern of the SM58 isolates the primary sound source. It picks up less unintentional background noise, making it suited for voice-over work and podcasting.
With a frequency response that ranges from 50 Hz to 15 kHz, the SM58 emphasizes the midrange for vocal clarity. When you're close to the microphone, it produces a robust tone, and bass roll-off compensates for an increased low-frequency response.
A built-in pop filter and ball grille help to minimize plosives and pops. Due to its all-metal chassis and reputation for durability, the SM58 is a popular choice for vocalists that need a reliable microphone. Perhaps the best thing about the Shure SM58 is that you can purchase one of these legendary dynamic microphones for around $100.

The Shure SM57 is fantastic for recording instruments but can also be used as a vocal mic. Both experts and novices will benefit from this cardioid dynamic microphone which focuses on recording sounds from a single direction, making it easy to reduce background noise.
Although the SM57 and SM58 have a similar design, the SM57 has a smaller grille since plosives are less of an issue while recording instruments. Instruments remain distinct and accurate while sub-bass frequencies are decreased. This is beneficial for live music since you don't want your bass instruments to dominate the mid-range.
The Shure SM57 and SM58 have a similar frequency response, but the high and low ends are where the microphones differ from one another. Due to its barrel-shaped front grille and frequency response range of 40 Hz to 15 kHz, the SM57 is physically suitable for miking drums.
Due to its robust design and construction, the SM57 can withstand loud sounds and drops and still produce good results. The Shure SM57 is among the most affordable microphones on the market and a popular choice for aspiring musicians. It provides exceptional value for artists on a tight budget due to its high quality and reasonable price.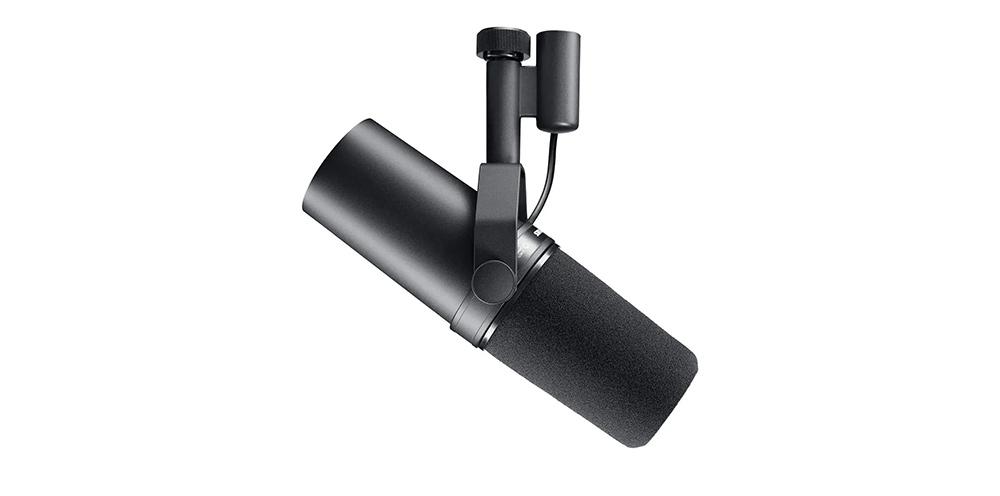 The Shure SM7B dynamic microphone is beloved by vocalists. Still, it has gained popularity among podcasters for its pleasantly smooth, warm tone. It features a frequency response (50 Hz – 20 kHz) that's ideal for speech and music recordings.
If you plan to use the SM7B for podcasting, voice-overs, or content creation, it will suit your needs right out of the box. It captures and enhances the fine characteristics of the human voice while reducing background noise.
The Shure SM7B is pricey but offers premium construction, reliable performance, and noise-canceling technology at an exceptional value. Since the microphone comes with a pop filter and an internal shock mount incorporated into the design, you won't need to worry about additional accessories besides a stand or boom arm.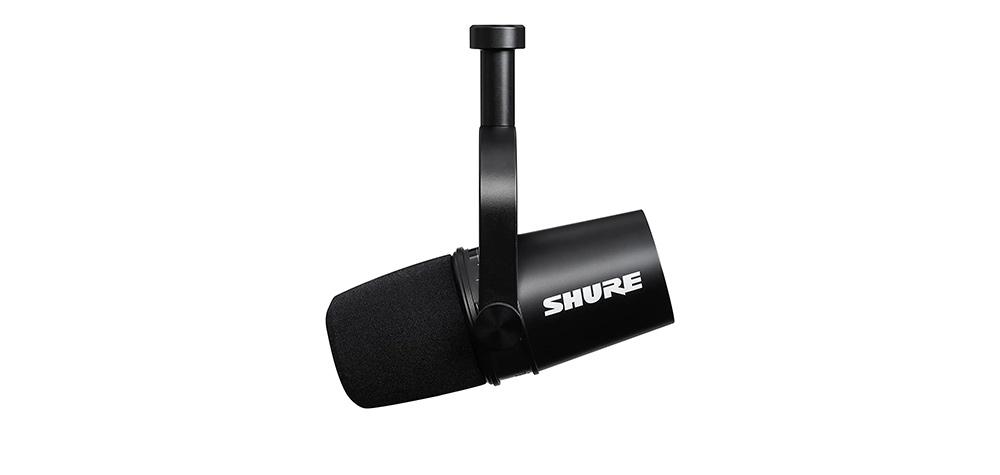 The Shure MV7 is ideal for podcasters and vocalists who want to sound professional in a home studio without needing an audio interface or mixer. Live streamers will love it as well. The MV7 has dual USB and XLR outputs which can be used simultaneously.
Thanks to its voice isolation technology and cardioid pickup pattern, the MV7 effectively isolates sound in front of the microphone and minimizes background noise. The mic has a frequency range of 50 Hz to 16 kHz. It can record 24-bit audio at 48 kHz sample rates, which is the standard for editing and mixing broadcast audio.
The Shure MV7 costs around $150 less than the Shure SM7B, but it lacks a microphone stand or mount. Due to its weight, the MV7 performs best mounted on a boom arm. Therefore, positioning the microphone where you want it may cost you extra. Read our full Shure MV7 microphone review.
The Sennheiser e945 is the ideal dynamic voice microphone if you want to enhance your live performances. This mic is intended to record lead vocals and has a rich, smooth response that cuts through the background noise.
This handheld microphone was clearly made for the stage. It's designed with metal housing, well-built and sturdy without being overly heavy.
Its supercardioid pickup pattern minimizes background noise and feedback even more than a traditional cardioid dynamic mic. In comparison, the e945 handles lows, mids, and highs significantly better than the e935, its cardioid sibling. But what the e945 does best is cutting through a full live band mix and still delivering depth and clarity.
The Sennheiser e945 flaunts an impressively wide frequency response (40 Hz – 18 kHz). It produces a warm, full sound in the lower ranges and does a great job handling the mid to high vocal range. However, the mic doesn't do a fantastic job at rejecting plosives without a pop filter.
It's a surprise to find a microphone of this caliber offered at such a competitive price (under $200). If you're looking for a durable vocal microphone in this price range, the Sennheiser e945 is highly recommended.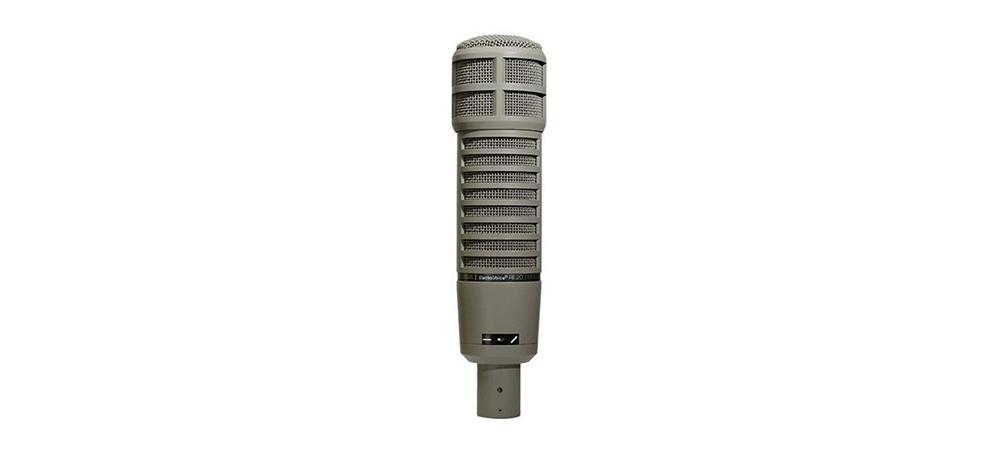 The Electro-Voice RE20 cardioid dynamic microphone is an industry-standard that offers dependable performance for broadcast work worldwide. The RE20 is excellent for broadcasting, podcasting, and voice-overs. Additionally, it can be used with instruments like kick drums and acoustic guitars.
Its steel casing makes the RE20 extremely durable. It can handle high sound levels, which can easily overload and cause distortion in condenser mics.
When it comes to sound quality, this is definitely one of the nicest-sounding mics. Electro-Voice's Variable-D design keeps frequency response (45 Hz – 18 kHz) uniform, which gives it a natural warm sound. Coupled with a quick transient response, it easily ranks among the best dynamic microphones available.
Being a true cardioid microphone, it keeps your mixes clean by capturing sounds from the front and sides while rejecting undesired background noise. An internal element shock-mount also reduces vibration-induced noise. Even while speaking close to the mic, it eliminates pops thanks to its built-in pop filter.
Although a bit pricey, the Electro-Voice RE20 was never meant to be a beginner's mic. It was created for professionals who want to take their audio to the next level.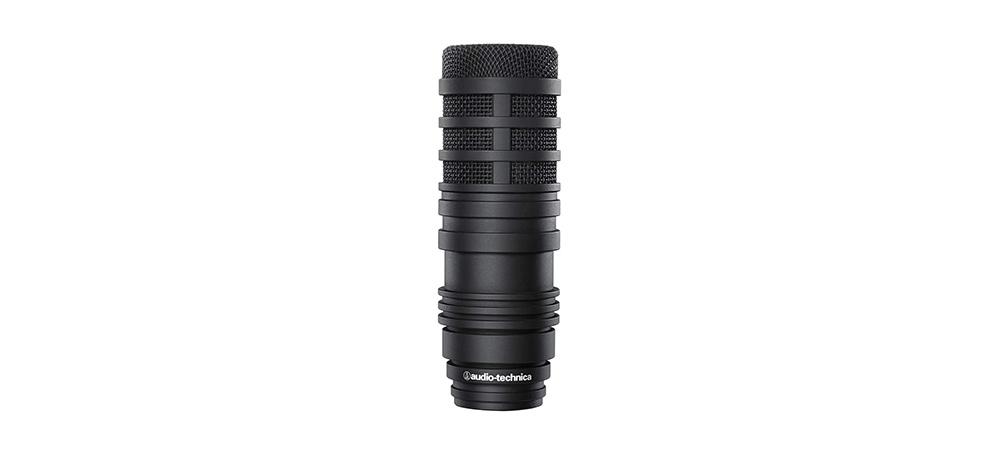 The Audio-Technica BP40 is an underrated hypercardioid mic that produces a full, natural, condenser-like sound with lots of gain out of the box. It's a must-have for broadcasters, podcasting, and content creators. Its rugged, all-metal design makes it dependable for pro-level or home studio recording environments.
Look no further if you are a fan of the Electro-Voice RE20 or Shure SM7 but want a quieter microphone with better direction and less bleed. Audio-Technica's BP40 even has better gain than the Shure SM7B and Electro-Voice RE320. The BP40 delivers that clear, bright "radio sound," and you won't need a Cloudlifter for it to sound loud enough.
The BP40 has a frequency response of 50 Hz to 16 kHz, but it also contains a switch that lets you choose between a flat response and low-frequency roll-off using its built-in 100 Hz high-pass filter.
The hypercardioid pickup pattern of the BP40 makes it most sensitive where the microphone is pointed, while the built-in windscreen provides optimum pop filtering. The mic has a humbucking coil directly over its large diaphragm to lessen the pickup of electromagnetic interference.
The Audio-Technica BP40 is slightly more expensive than the average broadcast dynamic microphone. Still, it's worth the price if you want a durable mic that doesn't need a pop filter or Cloudlifter, has fantastic clarity, and has good off-axis noise rejection.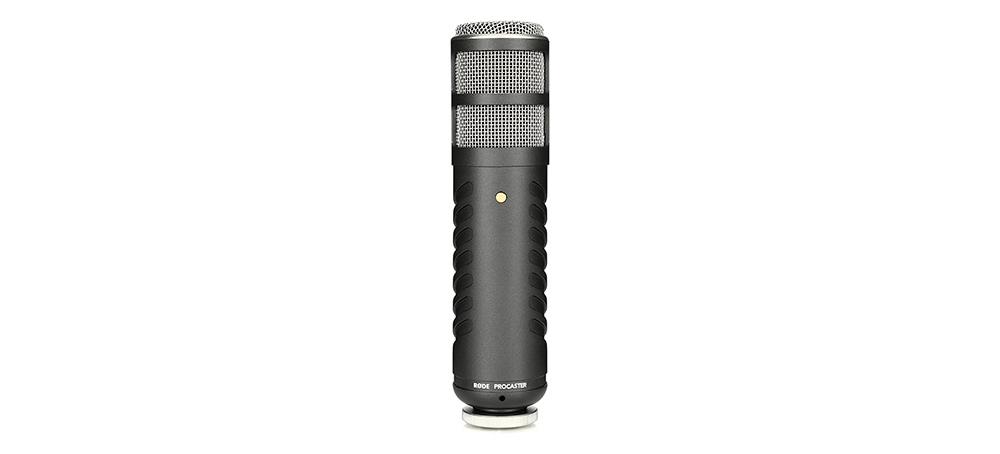 The Rode Procaster (not to be confused with the Rode Podcaster) is a dynamic broadcast microphone explicitly built for voice applications in the broadcast environment. A critical difference between the Rode Procaster and Podcaster is that the Procaster has an XLR connector. In contrast, the Podcaster has USB connectivity.
The Procaster offers a more natural sound than the Podcaster, with a much better and fuller low-end. It sounds great with the spoken word, singing, and acoustic or electric guitar instruments. Regarding rejecting background noise, the Procaster's high output dynamic capsule and balanced low impedance will outperform the Podcaster.
The Procaster has a wide frequency response (75 Hz – 18 kHz), which works well in recording environments requiring low distortion. You won't hear much in terms of plosives and pops. The mic has a built-in pop filter to lessen plosive sounds that could overburden the microphone capsule and cause audio distortion.
The Procaster's durability cannot be overstated. It's built like a truck. Due to its all-metal body, sturdy construction, and substantial weight, you'll need a strong stand for this microphone.
Although the Rode Procaster is affordable, you might need to purchase a Cloudlifter or preamp with the microphone. Having said that, you won't need to pay the extra money if you already have a mixer with a decent preamp that can give the mic sufficient gain.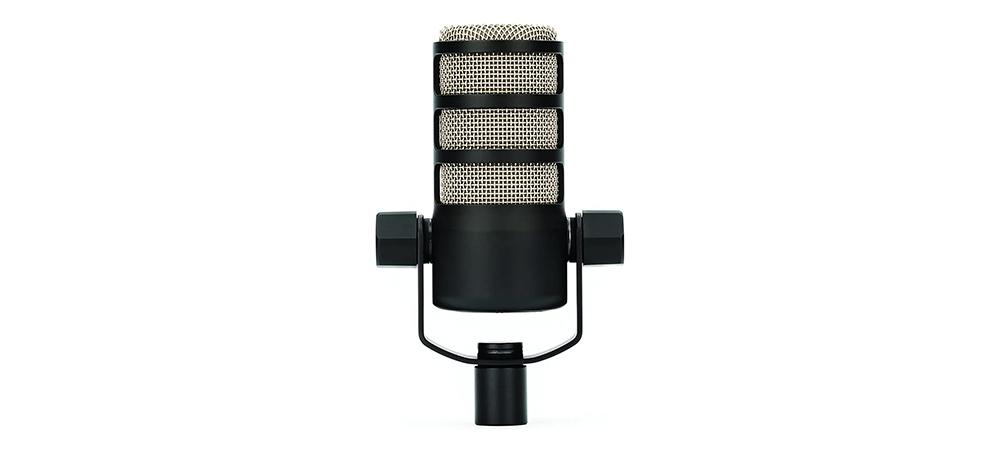 The Rode PodMic is a dynamic microphone with XLR connectivity, a built-in pop filter, and a shock mount. Whether you want to become a game streamer or start podcasting, this mic is an easy recommendation.
The Podmic is solid. Its all-metal cylindrical silver design and weight (2 lbs) give this microphone a premium appearance and feel. Whether you use it to record live streams, create voice-overs, or vocals, the accuracy and clarity it delivers cannot be overstated.
You won't need to speak loudly to be heard clearly because the microphone picks up voices at normal volume levels. That's due to the Podmic's tight cardioid polar pattern and wide frequency response of 20 Hz to 20 kHz.
The cardioid pattern has another benefit. It rejects off-axis noise like a champ. As a result, the PodMic will require a bit more gain from your interface. The microphone has an integrated pop filter to reduce plosives and a built-in swivel mount that lets you secure it in place using a stand or boom arm.
Finding a well-made microphone from a premium brand with these features for less than $100 is rare. Rode's PodMic is one of the best values available for the price. Keep in mind that you'll have to spend a little more for a decent stand or boom arm. Given that, I think Rode PodMic more than justifies that extra cost.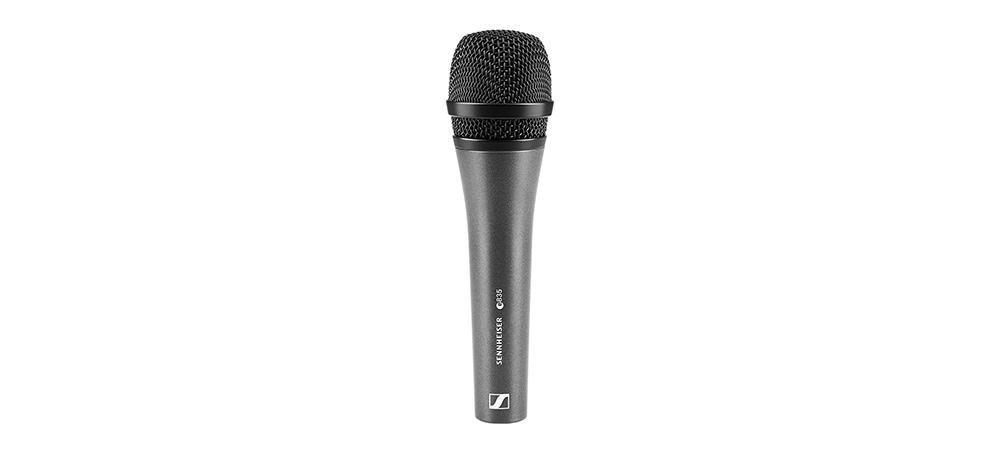 Sennheiser e835 is a dynamic handheld microphone with a wide cardioid pattern. As a result, it has a minimal proximity effect and is quite forgiving if the talent veers off-axis. Intended for live performances, semi-pro studios, and home recording. This microphone is incredibly simple to use, making it perfect for presenters, churches, and events. The e835 has an XLR port for connectivity, making it compatible with just about any board or mixer.
Its sturdy construction is comparable to that of more expensive Sennheiser models. The e835 has a sleek handheld design with a solid black grille and a dark grey all-metal body. Sennheiser maintains low costs and high simplicity by omitting all switches from the body. In the end, it's a cozy and sturdy little mic that can withstand any abuse you can dish out on stage.
The Sennheiser e835 has a very well-balanced low end and excels at handling speech. The effects of proximity are negligible, and talent will never experience boominess. Voice sounds natural and clear. E835 makes it very easy to cut through the mix due to its bright response and robust in-your-face presence.
Vocals are very well received, whether performed live on stage or in a more relaxed studio setting. Even when you start moving away from the mic, the sound is crisp and strong, with plenty of low-end and midrange warmth. The e835 performs well when recording instruments. With its high SPL (150dB), everything from drums to electric guitars is easily handled.
The e835 has a frequency response range of 40 Hz to 16 kHz. Making it wider on the top end than many of its direct competitors. It's not surprising that this dynamic cardioid mic performs exceptionally well off-axis, given how well it handles noise and feedback rejection. The e835 has an advanced internal shock mount and humbucking coil. The two noise-reducing features work well together to ensure that the microphone only picks up your voice and has no handling or unwanted hum.
The price of the Sennheiser e835 (under $100) is very appealing and offers reasonable performance value. It has a lot to offer beginner to professional stage performers on a tight budget. Read our full Sennheiser e835 review.
What is a Dynamic Microphone?
A dynamic microphone is a kind of mic that is best known for its broadcast-quality sound. They are often used for live performances with a loud and untreated sound source. They are considered the best fit for live vocals, podcasting, and recording low-to-mid frequency instruments.
What are the benefits of using a dynamic microphone?
A dynamic microphone can handle extremely loud sound signals with a high SPL (sound pressure level). A dynamic microphone is frequently used on a drum kit when capturing a live band. Even an inexpensive dynamic microphone can accurately record the loud sounds of a kick or snare drum.
Another benefit of a dynamic microphone is that they reject background noise. The lead singer of a band will frequently use a dynamic microphone during a live performance. On stage, there's a risk of a feedback loop between the monitors and the microphone. So it's crucial to have a microphone designed to reject background noise. Live performers commonly choose dynamic mics for this reason.
In a podcast studio or live streaming setting, having a dynamic microphone means you can get away with using a room without soundproofing. A sound-treated environment will undoubtedly be beneficial, but a dynamic microphone will perform well in untreated spaces and studios with imperfect acoustics. They'll be more forgiving of sounds like mouse and keyboard clicks.
The tone of a dynamic microphone will be more smooth, more robust, and fuller than a condenser microphone for broadcasting and podcasting purposes. For this reason, a dynamic microphone is frequently used in a broadcast studio to capture AM radio's big, warm, boomy voice.
The last benefit of a dynamic microphone is that they are very rugged and durable. These mics are made of pretty tough components and can handle a lot of abuse. You don't need to protect them in a foam case. You can simply toss them in a backpack and take them from project to project.
What are the downsides of a dynamic microphone?
One of the biggest downsides to dynamic microphones is that they are gain hungry. They will often require a lot of gain from your audio mixer or interface. Additionally, you'll frequently need a Cloudlifter, also known as an inline preamp, to boost the microphone.
Dynamic microphones have another disadvantage. In general, they have less resolution or sharpness to them. They're a little more rounded off. They lack the same accuracy you get with condenser microphones. As I mentioned earlier, this works for a lot of applications. However, it may be less desirable for recordings that require accuracy and precision.
GadgetAudio.com is reader supported. We may earn a small commission from affiliate links in this article. As an Amazon Associate, we earn from qualifying purchases. Learn more.