Galaxy Buds 2 vs Bose QuietComfort Earbuds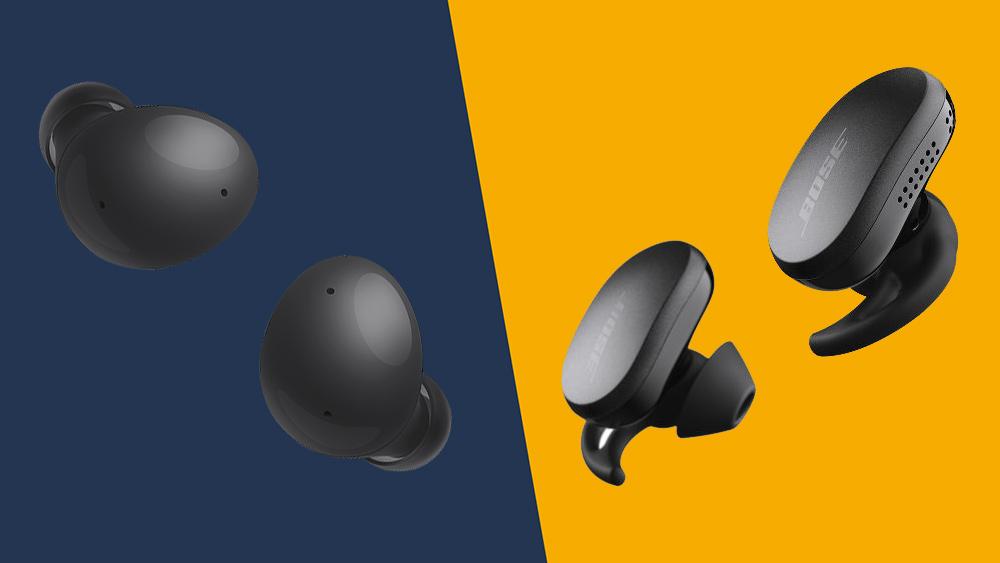 Samsung and Bose are both are vying for your attention with their noise-cancelling true wireless earbuds. The Samsung Galaxy Buds 2 features a small, lightweight design, which contrasts the Bose QuietComfort Earbuds' larger profile.
In this Samsung Galaxy Buds 2 vs. Bose QuietComfort Earbuds review, we'll take an in-depth look at the comfort, fit, noise cancellation, battery life, and more. Most importantly, we'll compare both sets of earbuds to find out which delivers the best overall sound quality. Let's get started and find out which set of premium active noise-cancelling earbuds is the best fit for you.
What is the difference between Samsung Galaxy Buds 2 and Bose QuietComfort Earbuds? The differences between these two wireless earbuds come down to these deciding factors:
Fit & Comfort: how they fit and feel in your ears
Touch Controls: ease of playback controls built into the earbuds
Sound Quality: which earbuds have the best sound quality
Noise Cancellation: which earbuds have the best active noise cancellation (ANC)
Other Features: microphone quality, battery life, voice assistant, and more
Price: the Samsung Galaxy Buds 2 are $149, and the Bose QuietComfort Earbuds are $279
Galaxy Buds 2 vs. Bose QuietComfort Earbuds: Fit and Comfort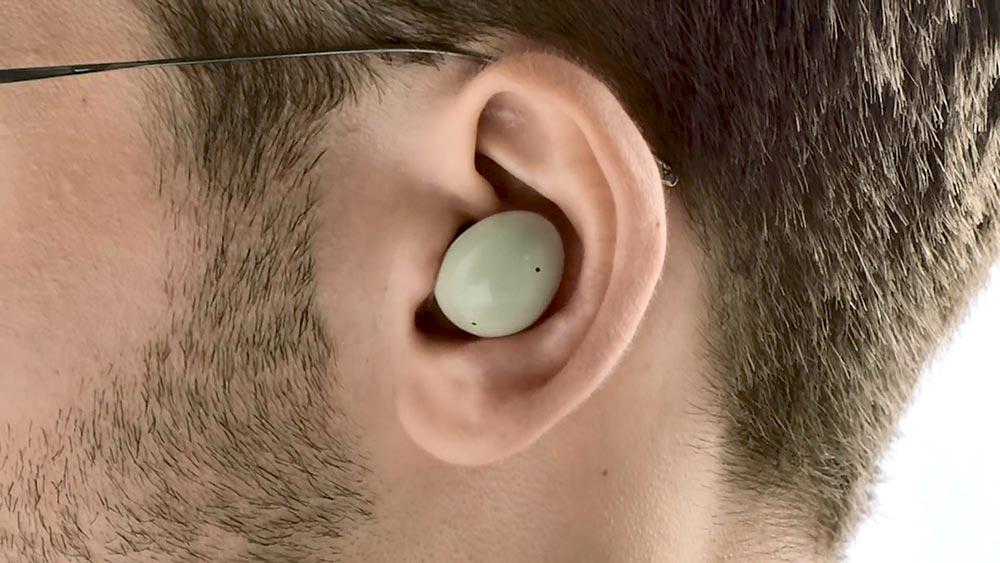 At 5 grams each, Samsung Galaxy Buds 2 are more compact and lightweight than the Bose QuietComfort Earbuds at 8.5 g. If you previously found that many in-ear buds are too big and bulky, the Galaxy Buds 2 might actually fit more snug than its competitors. You can select three ear-tip sizes: small, medium, and large. I find that they fit comfortably without feeling too tight, and I can wear them for extended periods without discomfort.
I found the QuietComfort Earbuds comfortable to wear as well. They come with two Bose StayHear Max ear tips with an integrated wing to provide a better audio experience. I was able to achieve a tight seal and a snug fit with the large ear tip. While they're smaller than other Bose earbuds, the QuietComfort will stick out a little bit from your ears.
That said, you may be slightly disappointed if you're leaning towards the Galaxy Buds 2. Wing tips, which help the buds fit comfortably in your ear, are not included. It wasn't a deal-breaker, but I wouldn't recommend them over the QuietComfort Earbuds for high-intensity workouts. As an alternative, Samsung's Galaxy Wearable app does come with an ear fit test which can help you decide which ear tip is the right size for your particular ear shape.
Galaxy Buds 2 vs. Bose QuietComfort Earbuds: Touch Controls
Both the Galaxy Buds 2 and QuietComfort Earbuds have similar touch controls. The Buds 2 sports a touchpad on each earbud that enable you to play or pause music, answer or end calls, skip tracks or change listening modes without using Samsung's Galaxy Wearable app. The QuietComfort Earbuds feature a touch surface. The right earbud can control media playback, volume, phone calls, and your mobile device's voice assistant. You to adjust the noise cancellation level and access a customizable shortcut using the left earbud. Inside the Bose Music app, you can enable or disable volume touch controls, create two custom modes, and adjust the EQ to fit your personal audio preferences.
Galaxy Buds 2 vs. Bose QuietComfort Earbuds: Sound Quality
The QuietComfort Earbuds sound better than the Galaxy Buds 2 and AirPods Pro. They have a richer, more dynamic sound with better detail, allowing you to hear individual bass notes. The QuietComfort Earbuds performed just as well as the best sounding wireless earbuds on the market, giving the pricey Sennheiser MOMENTUM True Wireless 2 a run for the money. They work well with various music genres, and hip-hop fans will feel the bass kick.
If you're a fan of how Samsung and AKG tune their audio, you won't be surprised by the Galaxy Buds 2 sound profile. Samsung gives you six different equalizer settings to choose from, including "Bass boost." The sound quality isn't spectacular, but overall the highs and lows are smooth and controlled. A variety of music genres sound fantastic while producing more bass than expected. Looking to upgrade your home audio? Then check out our Bose Smart Soundbar 900 review.
Galaxy Buds 2 vs. Bose QuietComfort Earbuds: Active Noise Cancellation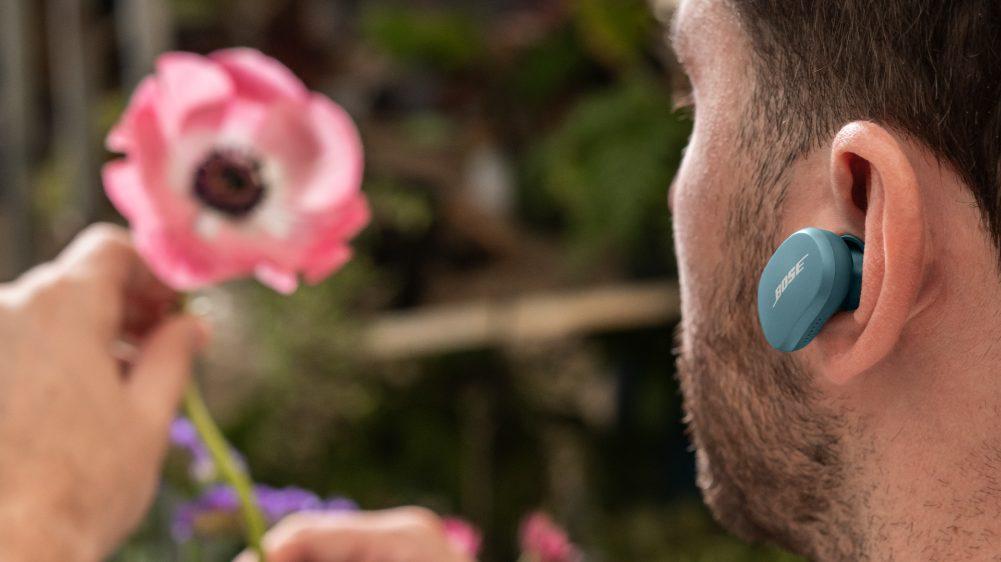 The Bose QuietComfort Earbuds outperform the Galaxy Buds 2 and most other wireless earbuds regarding active noise cancellation (ANC). They replicate the excellent ANC quality of the Bose 700 headphones. The QuietComfort Earbuds offer up to 10 levels of noise cancellation and four different sound modes using the Bose Music app. By default, whenever you remove one of the QuietComfort Earbuds from your ear, audio will pause in both earbuds, and the noise cancellation level adjusts to full transparency mode in the other earbud. Therefore you don't have the redundancy of listening to one bud with noise-cancelling activated. Audio will automatically resume playing when you re-insert the earbud, and noise cancellation will return to its previous level.
The Galaxy Buds 2 active noise cancellation is comparable to the AirPods Pro. They offer three levels of adjustable ambient sound control. The Buds 2 perform well indoors to block out humming from an air conditioner or the sound of bad weather. While commuting to work, you can still hear nearby sounds of mass transportation, but with noise cancellation on and music playing in your ears, ambient noise won't be a distraction. The Galaxy Buds 2 has dynamic two-way speakers with tweeters and woofers, which explains why the sound is more balanced. Find out how Samsung Galaxy Buds 2 Pro and AirPods Pro 2 compare.
Galaxy Buds 2 vs. Bose QuietComfort Earbuds: Microphone Quality
The QuietComfort Earbuds handle phone calls well but may not be as good as the AirPods Pro. It effectively reduced ambient sound in the streets during calls. My voice was clear, and I could hear well, but the noise reduction during calls was about average. When using the phone, you can listen with both earbuds. However, the microphone you speak into is only located in the right earbud. The QuietComfort Earbuds also have a sidetone feature that allows you to hear the sound of your voice during calls to modulate your tone.
Samsung has designed the Galaxy Buds 2 to reliably filter out background noise when making or receiving a call. Three microphones and a VPU (voice pickup unit) work together to isolate your voice for more clear calls. Samsung's microphone did a fantastic job focusing on my voice in a quiet room, but some background echo, unfortunately, accompanied it. When it comes to blocking out traffic noise, these earbuds do an excellent job of lowering noise pollution and focusing on speech. However, as for filtering out the noise of others, callers can sound a bit muffled. Despite that, the Galaxy Buds 2 offers a decent microphone for making phone calls in a range of environments.
Galaxy Buds 2 vs. Bose QuietComfort Earbuds: Battery Life
The QuietComfort Earbuds have a 6-hour battery life, which is decent for noise-cancelling earbuds. Not having the capability to disable transparency mode and ANC mode simultaneously may impact overall battery life. That won't be a problem. A 15-minute quick charge will give you about 2 hours of battery life. The supplied Bose charging case offers wireless charging and is compatible with Qi-certified wireless chargers. Fully charged, the case delivers up to 18 hours of battery life.
Samsung rates the Galaxy Buds 2 battery life at 5 hours with active noise cancellation activated and 7 1/2 hours with the feature off. That's standard for active noise cancellation earbuds. A 10-minute charge will give you about a 12 percent additional battery life. Samsung's charging case can provide up to 20 hours of battery life. By comparison, that's longer than the QuietComfort Earbuds. The Galaxy Buds 2 also excels in its method of charging. The case can be charged wirelessly or using the supplied USB-C cable.
Galaxy Buds 2 vs. Bose QuietComfort Earbuds: Bluetooth Connection
The QuietComfort Earbuds use Bluetooth 5.1, slightly behind the Bluetooth 5.2 on the Galaxy Buds 2. One of the most exciting innovations introduced in Bluetooth 5.2 is Low Energy Isochronous Channels. This version will allow for multiple connections of Bluetooth devices to a single source. Check out our guide on how to connect Bose headphones to your iPhone.
With the Galaxy Buds 2, you can quickly switch between an iPhone and Samsung phone without the need to disconnect from your current device. When you unpair from a device, Samsung's auto-switch feature will seamlessly auto-connect to the last recognized device. Both will quickly connect to your smart device regardless of which one you choose. You'll need the Bose Music app to switch between devices with the QuietComfort Earbuds.
Galaxy Buds 2 vs. Bose QuietComfort Earbuds: Voice Assistant
When it comes to the expansion of voice assistant technology, wireless earbuds are currently taking attention away from smart speakers and smartphones. Earbuds have become more popular because they're smaller and more portable than other mobile devices.
Advancing the growth, the Galaxy Buds line has become the AirPods' main rival in the U.S. due to their Android compatibility. Unfortunately, if you were hoping to use the Galaxy Buds 2 with Google Assistant or Amazon Alexa, the default voice assistant is set to Bixby. Given that, these earbuds will work best for Samsung and Android phone users.
In comparison, Bose has designed their QuietComfort Earbuds to be fully compatible with your device's built-in voice assistant. If you want to play music, send or receive messages, or get directions, you can do it all without having to reach for your phone.
Galaxy Buds 2 vs. Bose QuietComfort Earbuds: IPX Ratings
Let's take a look at the IPX ratings of the Galaxy Buds 2 and QuietComfort Earbuds. Rather than just using terms like waterproof or water-resistant, IPX ratings indicate how well the manufacturer has protected a device from external elements such as water, dirt, and dust particles. The higher the rating on the IPX scale, the greater the protection.
The Galaxy Buds 2 aren't as active-friendly as the QuietComfort Earbuds, which have an IPX4 rating making them sweat and weather splash-resistant. The Buds 2 are IPX2 sweat-resistant headphones. That means they'll be okay for light exercises, but there are certainly better options for runners.
Galaxy Buds 2 vs. Bose QuietComfort Earbuds: Which Is Better?
Are the Samsung Galaxy Buds 2 better than the Bose QuietComfort Earbuds? If I had to make a choice, the QuietComfort Earbuds would be my pick. Bose's active noise cancellation outperforms most wireless earbuds on the market. I appreciated Samsung including three interchangeable ear tips; however, I also found Bose StayHear Max tips comfortable to wear.
Is the Galaxy Buds 2 worth it? Yes, they are small, easily portable, and reliably block out background noise when making or receiving calls. However, in my tests, the QuietComfort mic slightly outperformed the Buds 2 while talking on the phone in different locations. That could be a deciding factor if you place more value on sound and call quality above size and comfort.
Samsung Galaxy Buds 2
Bose QuietComfort Earbuds
Pros
Small design and low profile
Decent active noise cancellation
Good sound quality
Bluetooth 5.2
Adjustable ambient sound mode
USB-C and Qi wireless charging
Interchangeable ear tips
Pros
Top-notch noise cancellation
Excellent sound quality
Sidetone "self voice" feature
Transparency mode works with ANC mode
Compatible with Siri or Google Assistant
USB-C and Qi wireless charging
IPX4 splash-resistant
Cons
Average battery life
Bixby voice assistant only
Ony IPX2
No audio transparency mode
No Sidetone "self voice" feature
Cons
Large design
Bulky charging case
Battery life could be longer
Bluetooth 5.1
Expensive