Galaxy Buds 2 Pro vs AirPods Pro 2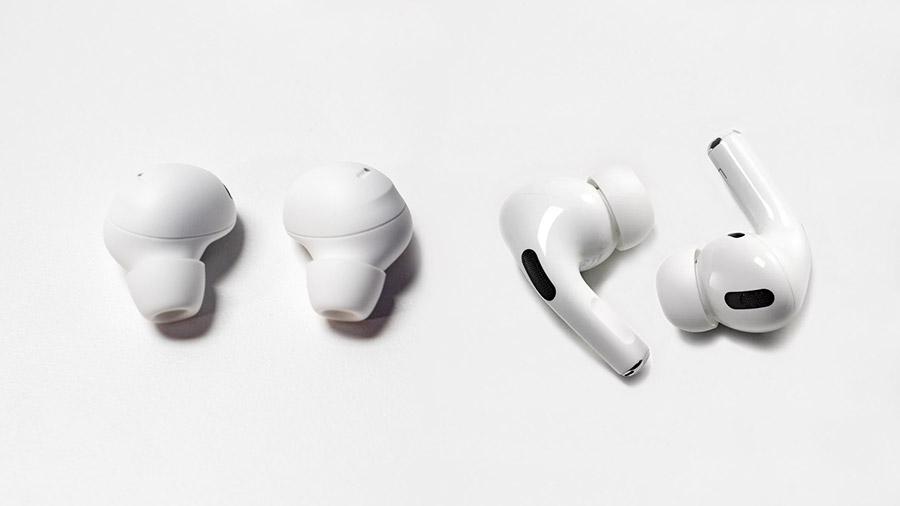 Apple and Samsung have updated their respective flagship true wireless earbuds, AirPods Pro 2 and Galaxy Buds Pro 2, with upgrades and new features in every area, but how do they compare to one another?
We looked at the key differences between the Galaxy Buds 2 Pro vs. AirPods Pro 2. They share several top-of-the-line features and are similarly priced, making them tough competitors. But which one is right for you? Let's find out.
Galaxy Buds 2 Pro vs AirPods Pro 2: Price
Apple has not increased the cost of the AirPods Pro 2, which remains at $249 like the first-generation model but that can go up depending on the accessories. Samsung has raised the price of the Galaxy Buds 2 Pro, but it still beats the competition at $229.
The Galaxy Buds Pro 2 is less expensive, but not significantly. Usually, that would be the deciding factor. Still, since both Samsung and Apple have their own ecosystems, there are other factors to consider besides the price.
Galaxy Buds 2 Pro vs AirPods Pro 2: Design
The AirPods Pro 2 and Galaxy Buds 2 Pro designs are very different. The Galaxy Buds 2 Pro has various colors (Graphite, White, and Bora Purple) to choose from. Apple's earbuds, however, are only available in white.
Apple hasn't made many design changes to the AirPods Pro 2. Samsung, however, has redesigned the Galaxy Buds 2 Pro to be 15% smaller for comfort and improved audio quality. The Galaxy Buds 2 Pro is not only smaller, but at 5.5 grams per Bud, they also weigh slightly less than the original model. However, Apple has managed to keep the weight of the 2nd generation AirPods Pro at 5.3 grams.
The round Galaxy Buds 2 Pro has a softer feel and is more grippy, thanks to its matte interior. Whereas the fit of the AirPods Pro 2 hasn't changed. The IPX7 rating of the Galaxy Buds2 Pro indicates that it is waterproof for 30 minutes submerged in water up to one meter. The AirPods Pro 2 is only rated IPX4 for sweat and water resistance.
Galaxy Buds 2 Pro vs AirPods Pro 2: Features
Apple's AirPods Pro 2 offers better sound, upgraded noise cancellation, and touch controls. Personalized Immersive Audio in the form of new low-distortion audio drivers and custom amplifiers that take advantage of Apple's new H2 chip to help listeners experience sound with unparalleled detail and clarity. Improved Noise Cancellation & Adaptive Transparency double the amount of noise cancellation. This feature continuously adapts the sound signal 48,000 times per second, enabling the earbuds to react quickly to loud sounds.
Adjustable Volume via Touch Controls adds touch controls to the built-in skin-detect sensor to allow users to adjust their AirPods' volume. New Charging Case now syncs with the Find My app, emits a tone to aid in finding it, and features a lanyard loop to keep it safely fastened wherever you go. Apple also says the AirPods Pro 2 features an additional 1.5 hours of Extended Battery Life.
Samsung's Galaxy Buds 2 Pro promises improved sound quality, better noise cancellation, and a revamped design. 24-bit Hi-Fi Sound, which has a higher dynamic range and reduced noise, is now supported. 360 Audio with Direct Multi-Channel supports (5.1ch / 7.1ch / Dolby Atmos) along with enhanced head tracking and now works with more Galaxy devices.
Intelligent Active Noise Canceling (ANC) helps the Buds track and eliminate more outside sound with three high SNR (Signal-to-Noise Ratio) microphones. Voice Detect automatically turns off ANC so you can engage in conversations without removing your Buds. New Ergonomic Design is 15% smaller than the previous generation for a more comfortable fit. If the Buds are accidentally misplaced, SmartThings Find can track them (with or without the case) using location detection.
Galaxy Buds 2 Pro vs AirPods Pro 2: Sound Quality
Both the AirPods Pro 2 and Galaxy Buds 2 Pro support Bluetooth 5.3. The AirPods Pro 2 connects seamlessly with other Apple devices. Audio in the earbuds can automatically transfer between devices connected to the same account. The Galaxy Buds 2 Pro offers similar functionality when paired with another Samsung device.
For improved audio performance, AirPods Pro 2 contain specially designed drivers and amplifiers that work with the new H2 chip. When ANC is activated, the H2 chip and new algorithms can better cancel unwanted noise. Apple says that ANC is two times more effective than the previous version.
The chip also handles Adaptive Transparency, a new feature that lets users hear sounds around them without taking off their wireless earbuds. Apple has also enhanced spatial audio by enabling consumers to establish a customized spatial audio profile based on the dimensions of their heads and ears.
The Galaxy Buds 2 Pro, in comparison, offers a dual speaker system with 10mm woofers and 5.3mm tweeters. According to Samsung, the earbuds' Intelligent ANC technology does a better job of isolating background noise during phone calls and music playback. Additionally, Intelligent ANC has a technology called Voice Detect, which recognizes when a user is speaking and lowers the playback level to make conversations more audible.
It switches to the previous playback settings as soon as the user stops speaking. The Galaxy Buds 2 Pro also features a new 24-bit Hi-Fi codec that is implemented when listening to Hi-Fi music streaming services and is paired to a Samsung device. Finally, Samsung's earbuds have their own improved version of spatial audio called 360 Audio. Find out how the Samsung Galaxy Buds 2 and Bose QuietComfort Earbuds compare.
Galaxy Buds 2 Pro vs AirPods Pro 2: Battery Life
The Samsung Galaxy Buds 2 Pro has an impressive battery life of 5 hours on a single charge and 18 hours with ANC. The battery lasts 8 hours on a single charge without ANC and 29 hours overall with the charging case.
The Apple AirPods Pro 2 battery life lasts 6 hours with ANC on and 7 hours with it off. The battery gets up to 30 hours with the case. Both earbuds support wired and wireless charging, but Apple continues to use the Lightning port while Samsung uses a USB-C port.