How to Connect Bose Headphones to iPhone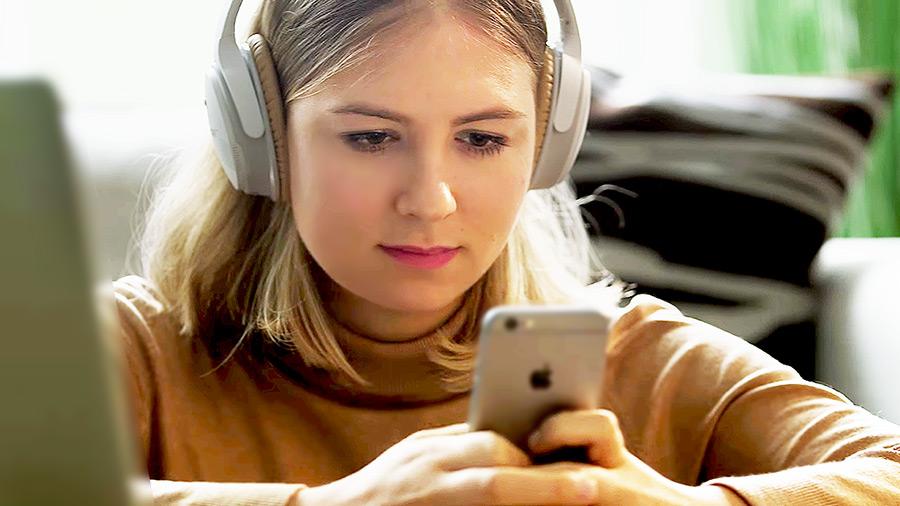 Bluetooth devices won't connect? Try these easy steps to connect Bose headphones to your iPhone.
While Bluetooth pairing and connectivity have significantly improved over time and continue to do so, issues can still arise from time to time. If you're having trouble connecting your Bluetooth headphones with an iPhone, you're not the only one.
This guide will show you how to connect Bose headphones to iPhone. You can complete these steps with any Bose Bluetooth headphones and Apple iPhone model.
Make sure both your headphones and phone are turned on and are discoverable.
1. To put your Bose headphones in discoverable mode, push the power button towards the Bluetooth icon, then release.
2. When the indicator light pulses blue, they're ready to pair. A voice prompt will confirm it's "Ready to pair."
3. On your phone, press Settings, then press Bluetooth, and make sure it's enabled.
4. Select the Bose headphones you want to pair from the list of available devices. It should then pair and connect.
5. A voice prompt will confirm, "Connected to iPhone." The indicator light on the headphone's earcup will turn white when the connection is complete.
From now on, your iPhone should connect automatically whenever the headphones are turned on and within range. If not, select your Bose headphones again.
How to Connect Bose Headphones to Multiple Devices
Using Bose Bluetooth headphones, you can maintain a connection with two devices simultaneously. For instance, you can pair an iPhone and iPad to your Bose headphones.
When you receive a call from the connected iPhone, the headphones will automatically pause the audio on the connected iPad. The headphones will play the iPad's audio when the call is over.
Here's how to pair an additional device when you're already connected to another:
1. Push the Power Button towards the Bluetooth icon and release it to put the headphones into discoverable mode.
2. A voice prompt will confirm, "ready to pair." When the indicator light pulses blue, the headphones are ready.
3. Then, just follow the same steps to pair the new device.
When two devices are actively connected, you can easily switch between them. Just pause the music on one and play music from the other.
How to Unpair Bose Headphones From iPhone
If you would like to unpair your Bose Bluetooth headphones from an iPhone to prevent them from pairing automatically in the future:
Go into Settings > Bluetooth.
Tap the (i) symbol next to the Bluetooth headphones that you want to remove.
Then Tap Forget This Device.
Finally, confirm that you want to remove the headphones from your iPhone.
To quickly disconnect from all Bluetooth devices without turning Bluetooth off, open Control Center, then tap the Bluetooth button.
Bose Headphones Won't Connect to iPhone
There are many possible reasons why your Bose headphones won't connect to your iPhone. Ensure your headphones and iPhone are powered on and have enough of charge to remain on during pairing. You should keep your iPhone and headphones in close proximity to one another to ensure a strong pairing signal.
1. Make sure you use the correct Bose app for your headphones. There are several Bose apps designed for different products. To find out which app works with your headphones, check your instruction manual or visit the official Bose website.
2. Reboot your Bose headphones. Your headphones might need to be reset from time to time to fix minor issues. This is typically done by shutting down the device for 30 seconds, then powering it on again.
3. Clear headphones memory. Turn on your headphones and move the Power switch toward the Bluetooth icon. Hold the switch for 10 seconds until a voice prompt confirms, "Bluetooth device list cleared."
4. Reboot the iPhone. Press and hold the volume up or down button while pressing the right-side button until the power-off slider appears. Drag the slider to turn off the device. Wait 30 seconds. Press and hold the right-side button to turn your device back on.