Best AirPods Accessories for 2023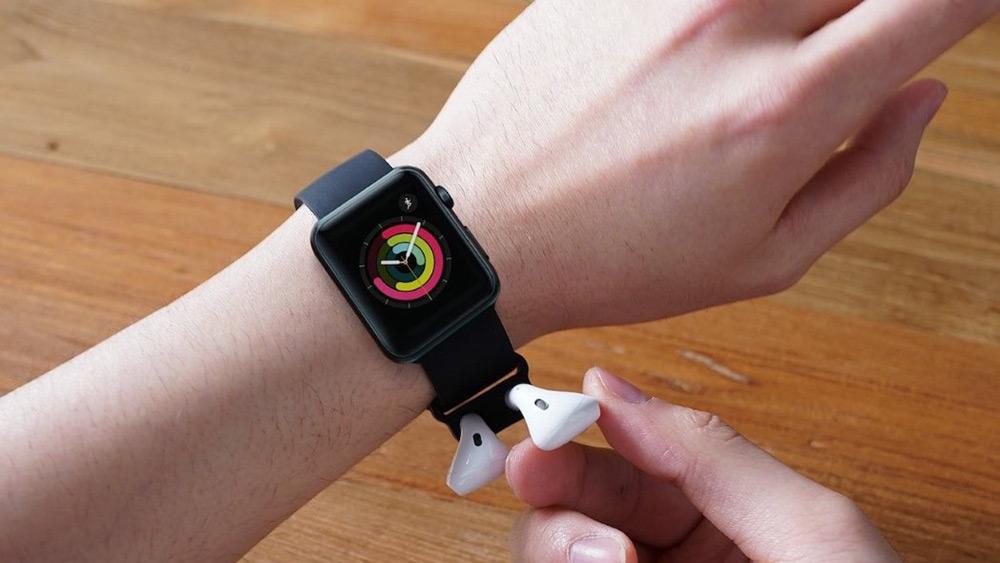 Apple's AirPods are one of the most convenient ways to enjoy music, podcasts, and audiobooks on the go. With its compact design and advanced features, it's easy to see why so many people have made Airpods their true wireless earbuds of choice.
Since a brand new pair of AirPods are pricey, you'll certainly want to keep them well-protected by customizing them to your needs. Whether you're hitting the gym, traveling, or commuting to work, there are lots of accessories on the market. From cases, chargers, and ear hooks to neck straps and transmitters, these add-ons can make AirPods safer and more convenient to use.
Here are the best AirPods accessories that will protect your pods and make your listening experience even better.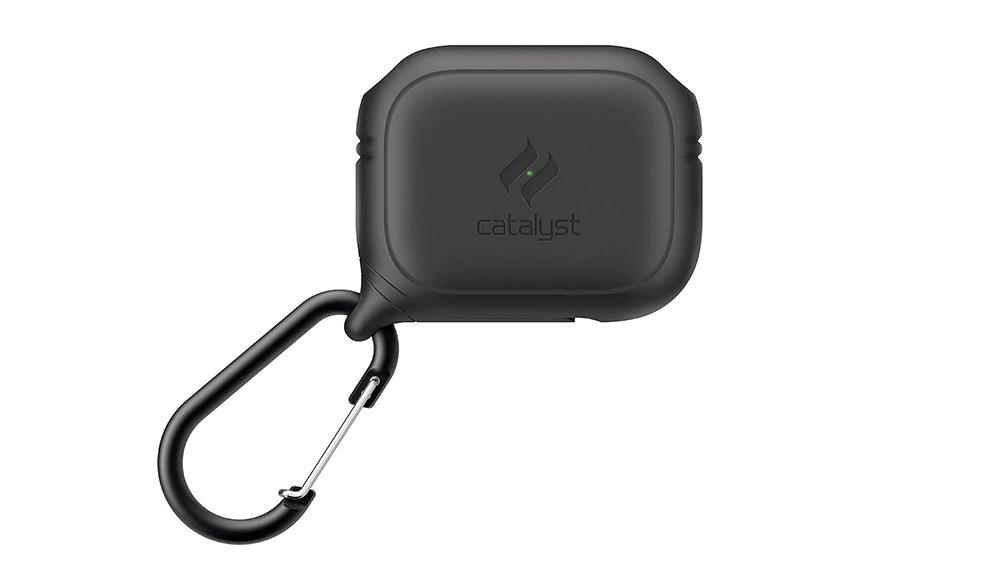 Apple's AirPods cases aren't particularly durable. An unexpected drop or exposure to water might cost you far more than the cost of a good protective case. The Catalyst Waterproof Case protects your AirPods Pro, AirPods 3, and AirPods 1 & 2 from rain, snow, and dust. It fits over your AirPods case and works with wireless/QI charging pads and MagSafe chargers. A waterproof plug is also included for easy access to the standard lightning cable. In addition, the case includes a detachable carabiner clip that attaches to your belt, backpack, or handbag to prevent your earbuds from getting lost. Catalyst Waterproof Case comes in a variety of colors to choose from. A version of this case is also available for Beats Studio Buds.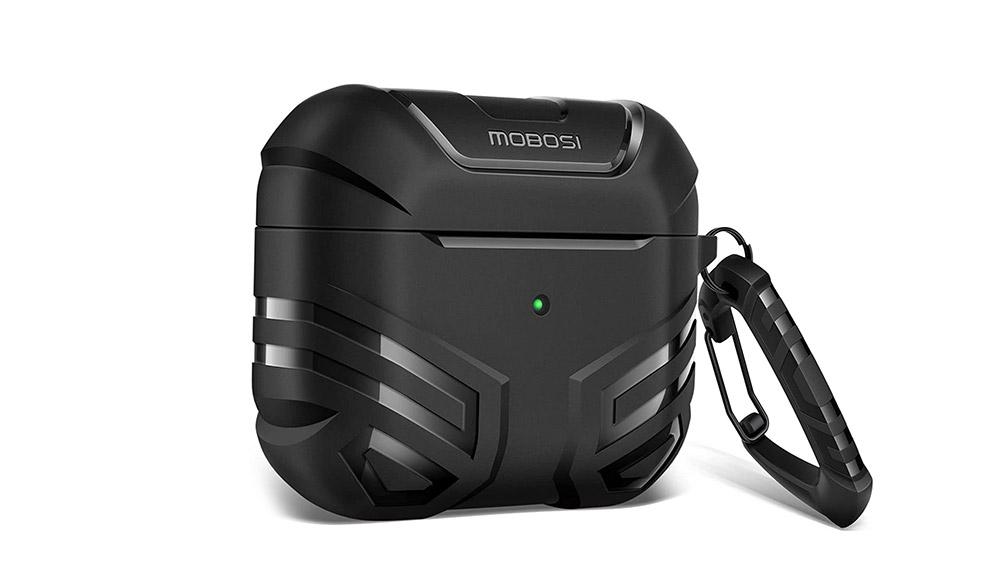 For a more rugged case for your AirPods, consider the Mobosi Hard Shell Protective Case. This case for AirPods Pro and AirPods 3 securely protects your AirPods case against drops, scratches, and bumps without adding bulk. It also has an anti-slip and anti-shock design that makes it easy to hold and reduces the impact of a fall when dropped. The AirPods charging case stays closed and secured thanks to the security lock design. You won't have to remove the case when charging because Mobosi supports both wired and wireless charging. Additionally, the LED light is visible during the charging. It also comes with a carabiner clip, making it simple to carry anywhere without fear of loss or theft.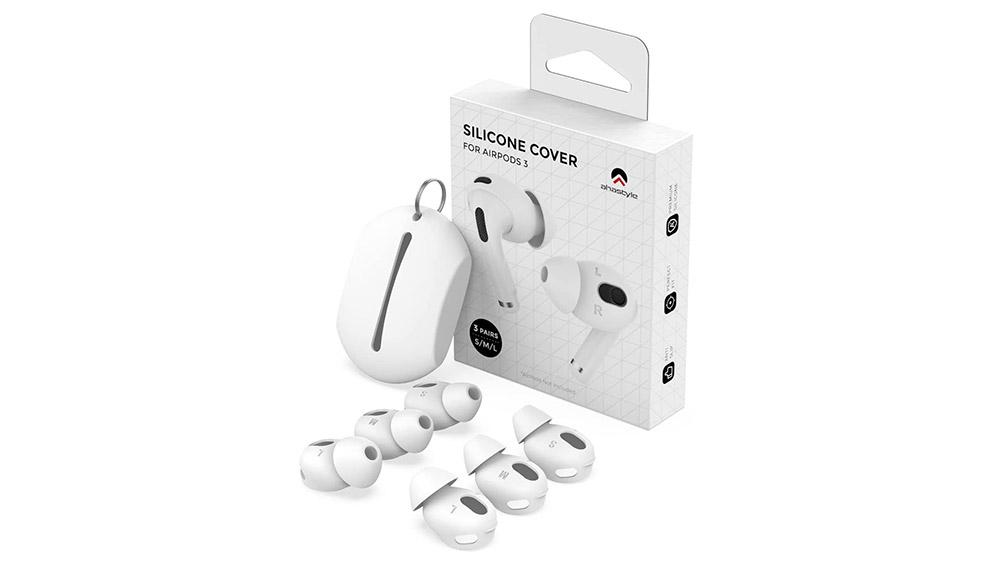 One of the biggest distinctions between the AirPods Pro and earlier generations is that the Pro model comes with silicone ear tips that allow them to fit more comfortably and securely. The AhaStyle Silicone Ear Tips offer an improved fit for AirPods 3 and AirPods 1 & 2. While these ear tips don't magically give older AirPods active noise cancellation like the Pro, they can significantly improve your overall listening experience.
You'll get improved passive noise reduction and more bass because the tips fit firmly in your ear canal and keep sound directed into your ear. You can select from three different sizes, so you don't have to worry about them not fitting. While your AirPods cannot fit into the case with the ear tips on, you can store them in the provided case while your AirPods charge.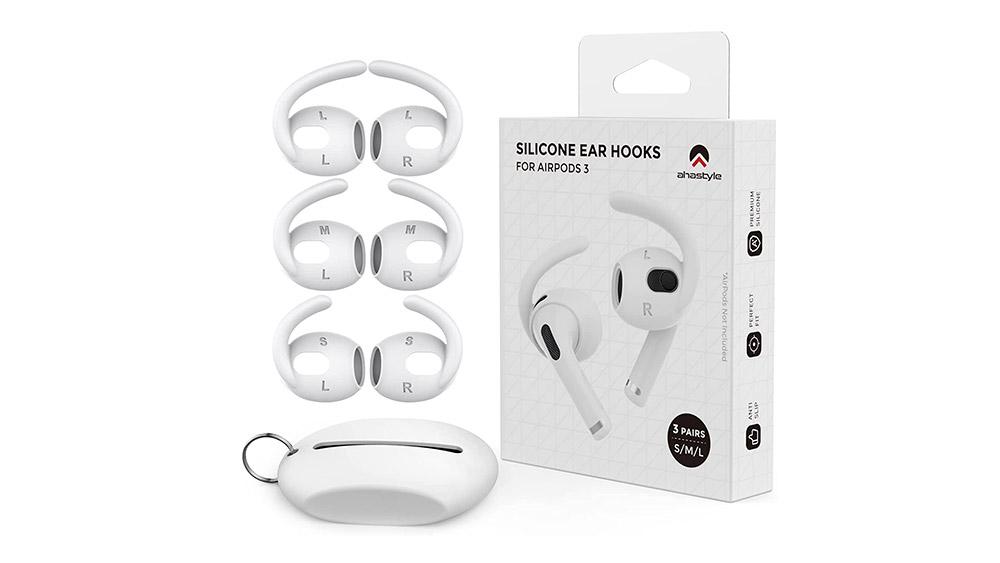 If your AirPods aren't staying in your ears, the AhaStyle Silicone Ear Hooks covers may be a game-changer. These ergonomically designed ear hooks are compatible with both AirPods Pro and AirPods 3. To hold your AirPods in place, each cover has a little hook that latches onto the inner part of your ear. They're great for running, jogging, cycling, and a number of other activities.
The necessary cutouts are included in the cover so that they won't interfere with the sound or operation of your AirPods. As with similar ear hooks, you must remove these to charge your AirPods. Fortunately, AhaStyle's ear hooks are not difficult to take off or put on. The AirPods 3 version includes three sizes for you to find the best fit.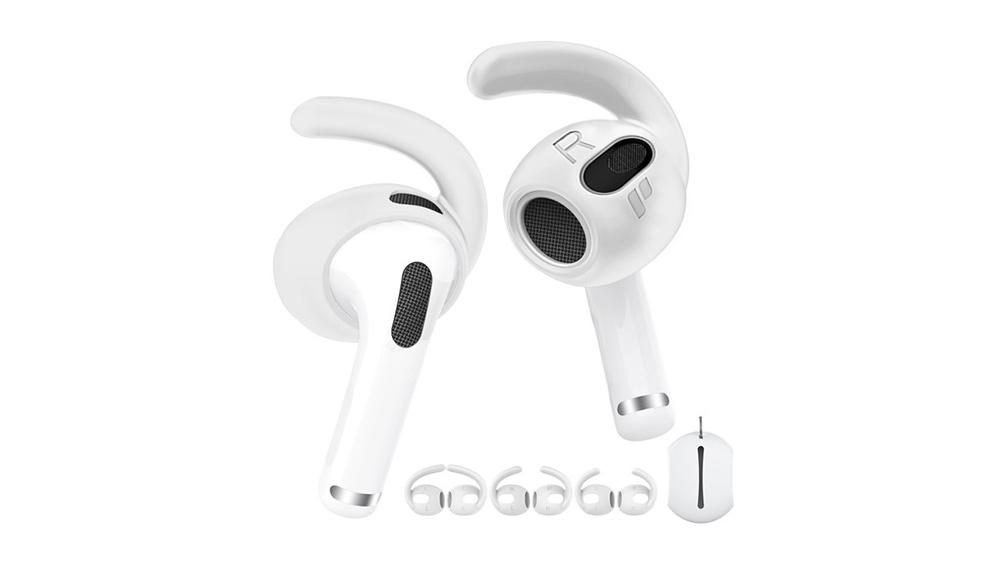 While the ear tips on AirPods Pro were designed to fit ears better than standard AirPods, there will always be owners who prefer something more tailored to their ear shape. Proof Labs Ear Hooks attach to your AirPods Pro and AirPods 3 to offer a secure fit, improved seal, and a comfortable listening experience. Whether you're commuting to work, running out of the office for lunch, or working out, these soft and flexible hooks will keep your AirPods securely in your ears.
Made of high-quality silicone, these hooks can slide on and off easily. It's worth noting, however, that you'll need to take them off to charge your AirPods. The price will get you three pairs. There are two color options for the AirPods Pro version: black or white.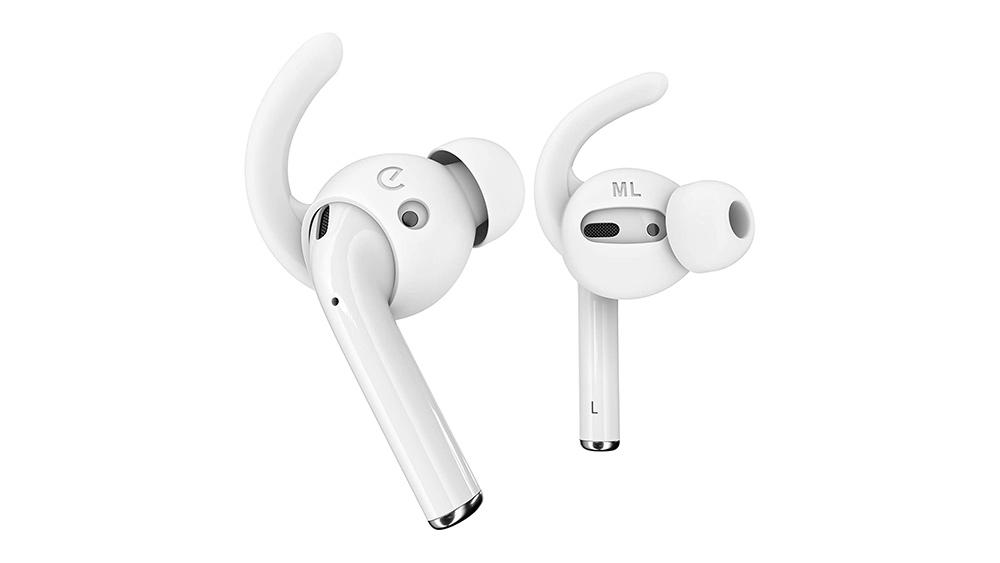 If you've tried a variety of ear hooks for your AirPods but can't find one that fits, the EarBuddyz Ultra Ear Hooks ensure a snug and comfortable fit every time. It's compatible with AirPods Pro, AirPods 1 & 2, as well as EarPods. Each pack has three sizes: small, medium, and large, allowing for a tailored, comfortable fit for all ear sizes. These ear hooks make a significant difference while walking, running, or working out at the gym. They keep your AirPods or EarPods in position without requiring any fiddling or adjusting.
They also make a significant impact on the sound of your AirPods. Bass is much stronger and fuller with the EarBuddyz Ultra Ear Hooks, increasing noise isolation by keeping unwanted sounds out. When your AirPods are charging, the included carrying case is convenient for quick access and storage.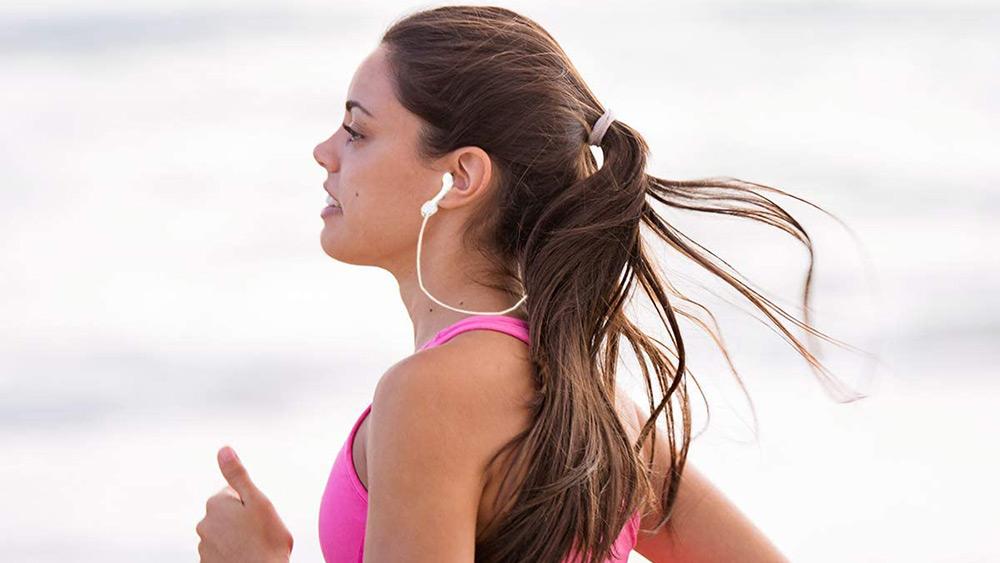 Replacing a lost AirPod is expensive, but you'll never lose another one with this handy Magnetic Anti-Lost Strap. This strap turns your Airpods Pro and regular AirPods into a semi-wired pair, ensuring that if one bud comes out, it will only fall around your neck instead of to the ground. You won't have to worry about your AirPods getting lost because the strap easily clamps onto the ends of the stems.
If you need to pull your AirPods out to talk to someone or take a break during a workout, the built-in magnets will keep the straps connected around your neck. It's made of ultra-thin silicone and is so light that you won't notice it while jogging. Your AirPods will stay together if you put the strap in your pocket, handbag, or backpack. The strap can be securely wrapped around the AirPods charge case when not in use. You get four straps, and you can select the color pairs you want.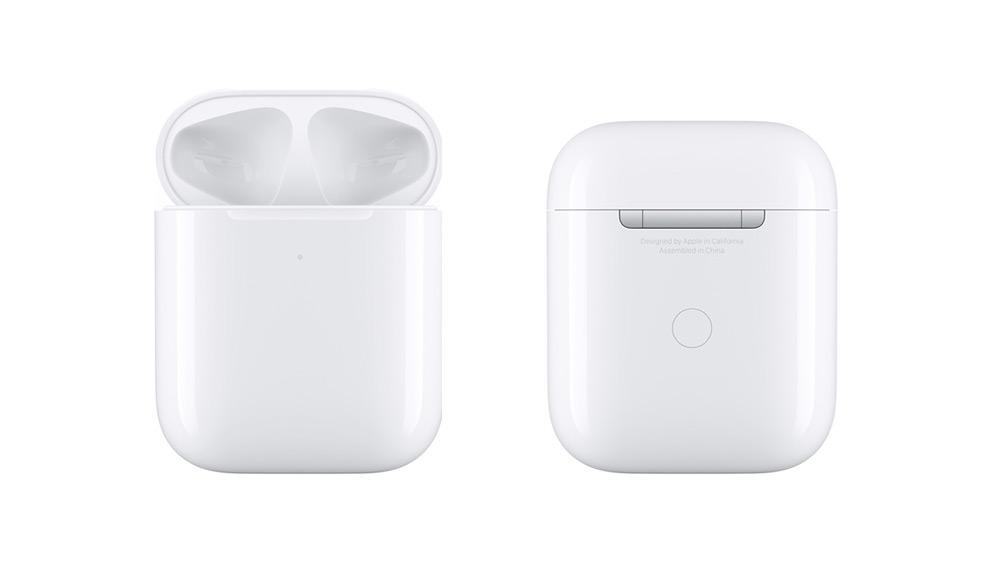 If you bought a pair of AirPods (1st and 2nd generation), they did not come with a wireless charging case. Fortunately, Apple sells a standalone Wireless Charging Case on its own. It can also replace a case that has been lost or damaged. To charge your AirPods wirelessly, just place the AirPods wireless charging case on a Qi-enabled wireless charger. The LED light on the case indicates that your AirPods are charging.
Like the original wired version, the new wireless charging case allows for multiple charges for up to 24 hours of listening time. When you're away from a charging mat, you can use a wired Lightning cable to charge the case via the Lightning port. Keep in mind the wireless charging case is a standalone case that doesn't include AirPods, a Lightning cable, or a charging mat.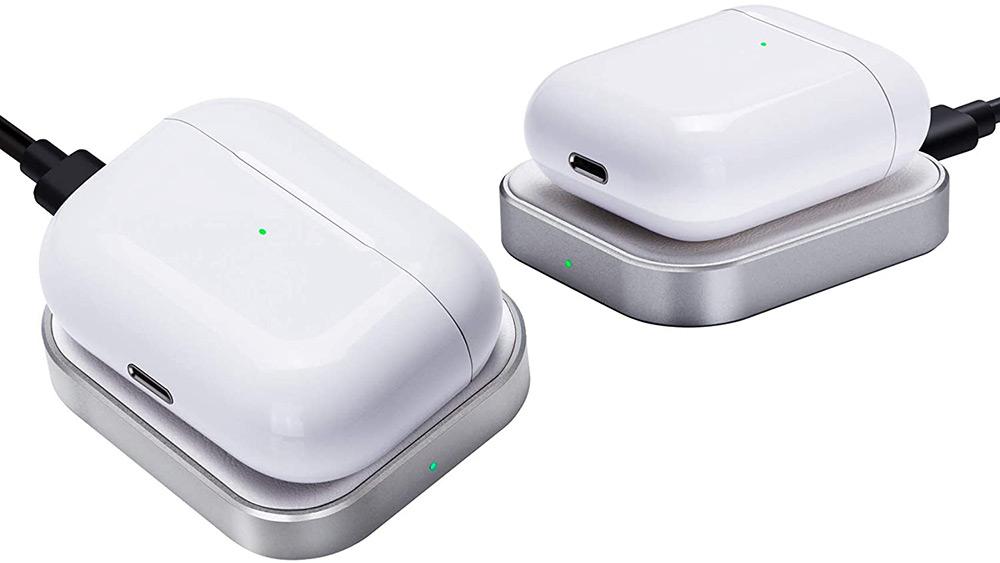 If all you need is a wireless charger for your AirPods and AirPods Pro, the sleek and compact FutureCharger Wireless Charger will do an excellent job. It has an aluminum alloy body padded on top with high-quality soft PU leather and an anti-slip rubber base to keep the charger steady. To charge, simply lay your wireless charging case on the FutureCharger Wireless Charger and plug in the USB Type-C cable that comes with it.
The charging station is equipped with advanced technology that protects your device from over-current, over-voltage, and over-charging. It's exactly shaped to fit your AirPods and is available in a variety of colors to brighten up your desktop or nightstand. It's small enough to place in a backpack pocket making it the perfect size for traveling. While this charger is made specifically for AirPods, it can also be used to charge your iPhone, though it's smaller than other charging pads.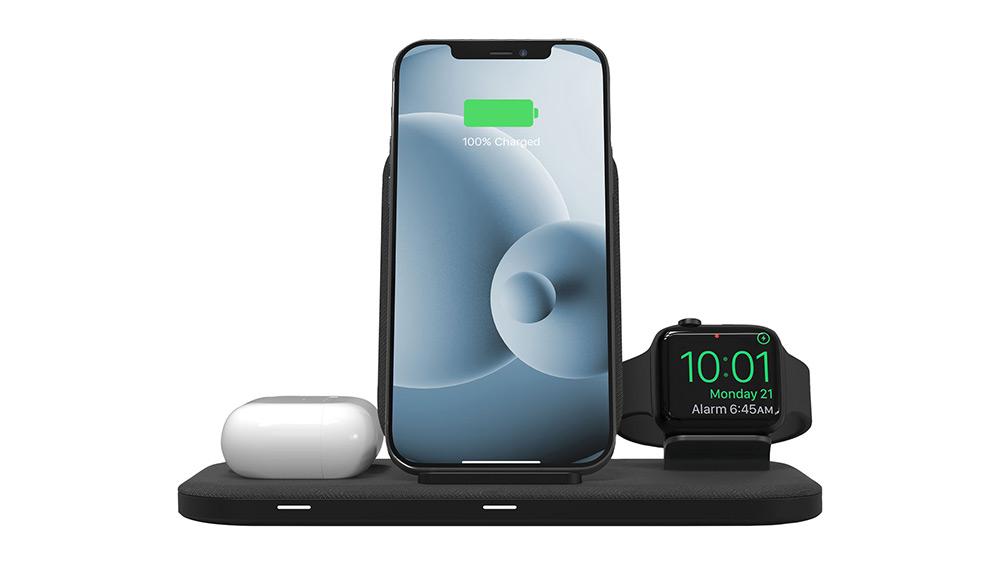 If you don't like the clutter of having multiple chargers for different Apple devices, Mophie's 3-in-1 Wireless Charging Stand is a great solution. It can charge your iPhone, Apple Watch, and AirPods simultaneously. Mophie has been a leading electronics manufacturer for a long time. They consistently design excellent accessories for smartphones and other mobile devices, and their 3-in-1 Wireless Charging Stand is no exception. The finish on this Qi-standard charge stand gives it a stylish look while protecting your Apple devices from scratches.
You can quickly charge all your Apple devices in one central location with a designated spot for your AirPods. Simply place your iPhone, Apple Watch, and AirPods/AirPods Pro on the stand, and wireless charging will begin on contact. This sleek all-in-one stand has a charging speed of up to 15W, which means your devices will charge super fast.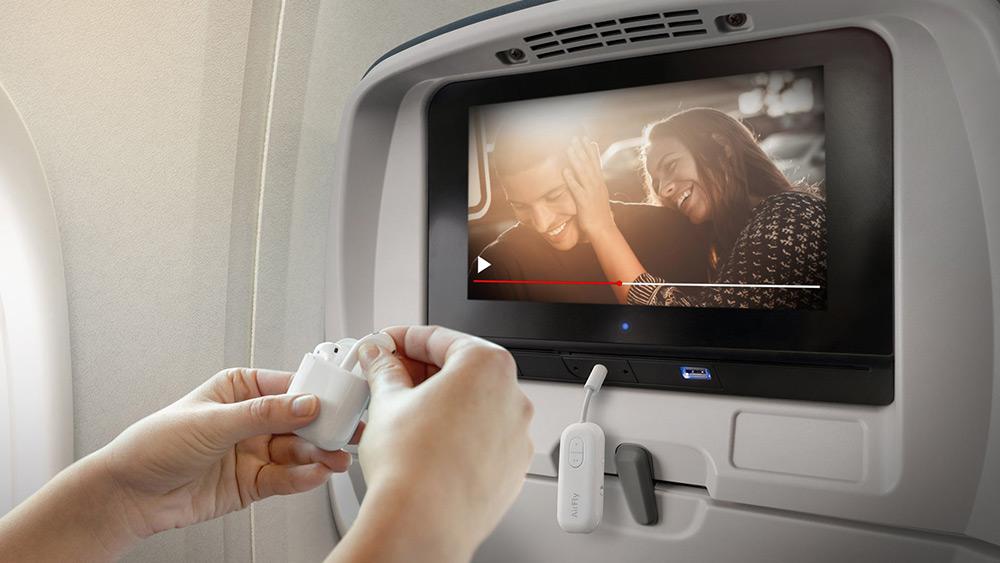 Using wired headphones to listen to in-flight entertainment can be inconvenient when flying by plane. Twelve South's AirFly Duo is aiming to solve this problem. It lets you send audio from non-Bluetooth devices wirelessly to your AirPods, earbuds, or wireless headphones. You can transmit audio from any device with a 3.5 audio jack. The transmitter has a 10m/33ft range and can simultaneously be used with up to two AirPods. As a result, you can relax with plenty of space to enjoy your content.
It's easy to pair your AirPods with the AirFly, and the sound quality is excellent. It's small and lightweight, so it will fit comfortably into your carry-on bag, as well as the pouch that comes with it. The AirFly boasts a 20+ hour battery life to get you through even the longest flight. If you forget to charge your AirFly before taking off, you can use it while it's being charged with the provided cable. Additionally, the AirFly can even connect your AirPods to portable gaming consoles like the Nintendo Switch.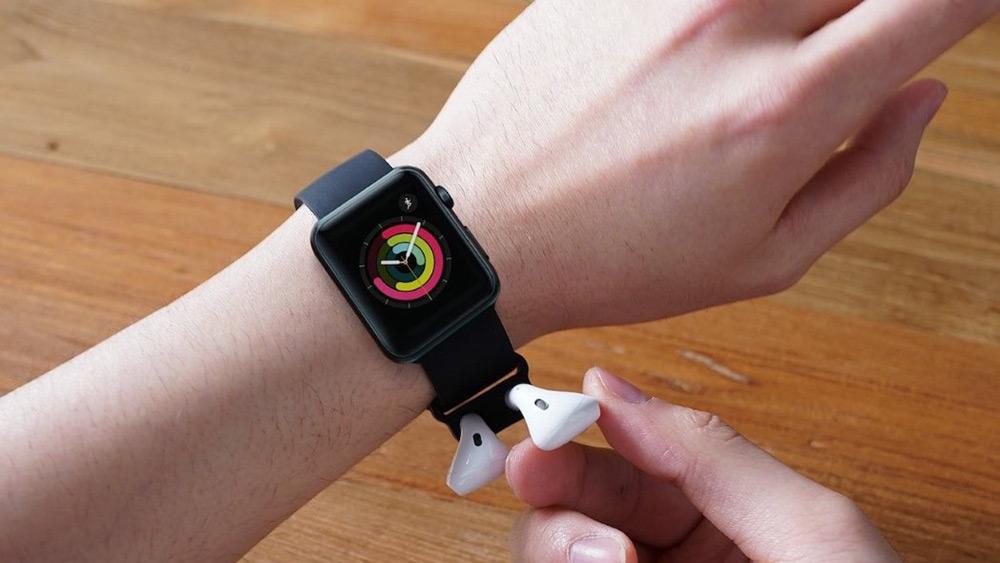 Do you avoid putting your AirPods in your pocket because you're afraid of losing them? The AirPods Watch Band Holder is made to fit Apple Watch bands, allowing you to keep your AirPods Pro and AirPods on your wrist instead of in your pocket. You can leave the bulky charging case at home. Simply slide this cleverly designed holder onto your watch strap and store your AirPods when not in use. Find out how the Apple Watch 8 and Samsung Galaxy Watch 5 compare.
It keeps your buds close at hand, yet it's snug enough that they won't slip out. It sports a slim-fitting and lightweight profile. Because the holder is silicone, it will not loosen over time. Its anti-slip grip ensures that it stays in place for active people who go to the gym, run, cycle, and more. The AirPods Watch Band Holder is compatible with all watch straps up to 25mm (2 in) wide.
Airpod Cleaning Kit
Airpod Cleaning Kit
Key Features
Cleaning putty
Cleaning sticks
Soft bristle brushes
Microfiber cloth
Wet and dry cleaning wipes
GadgetAudio.com is reader supported. We may earn a small commission from affiliate links in this article. As an Amazon Associate, we earn from qualifying purchases. Learn more.