Bose Smart Soundbar 900 Review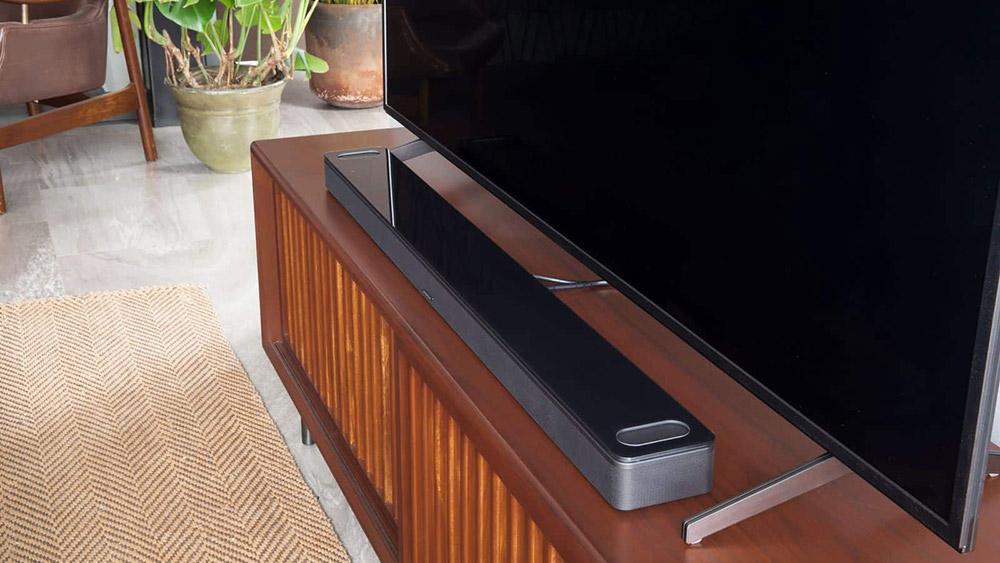 The Bose Smart Soundbar 900 takes on the competition with a sleek design, plenty of features, configurable options, and Dolby Atmos support.
Dolby Atmos support
Alexa and Google Assistant built-in
Excellent music quality
Bluetooth
HDMI eARC
ADAPTiQ calibration
No DTS support
Only one HDMI port
Remote is not backlit
No headphone output
No side-firing speakers
Overview
Bose has joined the Dolby Atmos club with the Bose Smart Soundbar 900. It's the first soundbar from Bose to support object-based audio, placing it in direct rivalry with the Sonos Arc. It comes with Amazon Alexa and Google Assistant pre-installed and also has Bluetooth functionality.
It can pair with other Bose Wi-Fi speakers and connect your TV via HDMI eARC or Optical digital audio. You can also upgrade to a 5.1.2 channel configuration with a Bose wireless subwoofer and surround speakers. The ADAPTiQ audio calibration feature and Bose Music app set the Smart Soundbar 900 apart, but can it match the competition when it comes to bass and immersive surround sound?
Price
The Bose Smart Soundbar 900 is the company's first premium Atmos-enabled sound bar with dedicated height channels. It's available in Black or Arctic White and sells for $799, which just undercuts its main rival, Sonos Arc.
Design and Features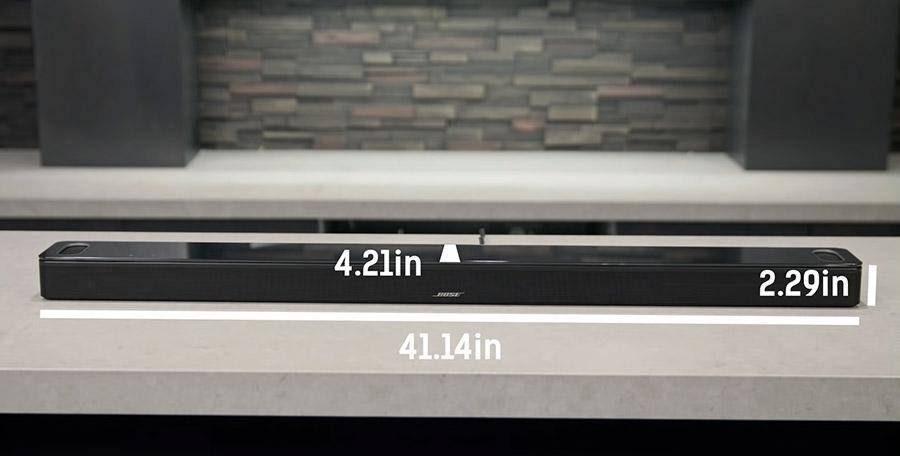 When it comes to design, Bose tends to favor a more classic tech aesthetic, and the 900 appears to be no exception. With dimensions of 41.14″ L x 2.29″ H x 4.21″ D, the Bose Smart Soundbar 900 is long enough to fit under a 49-inch television. After placing it under the TV, I must say it blends beautifully with the rest of the setup. You don't notice it beneath the TV as much as you might with other soundbars.
Because the 900 has a slim profile, it should be able to fit under most televisions. A metal grille surrounds the sides and front of the soundbar, while the top is covered in a glossy glass finish. The premium glass top has the disadvantage of being a fingerprint magnet and showing dust very plainly, so expect a lot of cloth upkeep.
Inside the box, you'll find the soundbar, remote control, power cord, HDMI cable, optical cable, ADAPTiQ headset, and Quick start guide. Unfortunately, the remote control is not backlit like the one included with the Bose 700, but it is otherwise comparable.
On the back of the unit, there's a power port, one HDMI eARC for supported TVs to get Dolby Atmos, Optical input for TVs that don't have an HDMI ARC (Audio Return Channel), an Ethernet port for making a wired connection to your router, ADAPTiQ input for room calibration, BASS port for an optional proprietary subwoofer, an IR blaster input to operate an AV receiver, DATA port for updates and a USB for service only.
Under the hood, the soundbar houses nine built-in speakers including four racetrack transducers, a center channel driver, and two upward-firing transducers for Dolby Atmos. The bar also features Bose's PhaseGuide technology, which uses two asynchronous-firing mini-speakers to deliver distinct sounds to the left and right.
Sound Quality
The Bose Smart Soundbar 900 isn't going to sound great right out of the box. You'll need to run the ADAPTiQ audio calibration process to get the best sound from the soundbar. ADAPTiQ adjusts your system's sound to fit the acoustics of your room. If you later add the accessory bass module or surround speakers to your soundbar, you'll need to re-calibrate the system and accessories with ADAPTiQ.
The process involves connecting the included ADAPTiQ headset to the ADAPTiQ input on the back of the soundbar. While wearing the headset, simply follow a five-step process on the app that emits different test tones to optimize the sound of your system.
Before you begin tuning, make sure the room is as quiet as possible. The ADAPTiQ tuning process had a more significant impact than any other room calibration software I've used. I highly recommend playing around with the EQ adjustments in the Bose Music app, particularly the bass level and center channel.
At first, I thought the bass sounded a little flat out of the box, but I turned it up a notch, and that was all I needed for most of my media. It didn't detract from the mid-range or the highs in any way. It simply provided it a much-needed kick. I also increased the center channel adjustment, which is a helpful feature because it controls the playback of vocals, dialog, and high frequencies, which are vital to your listening experience.
The Soundbar 900 can process Dolby Atmos and Atmos-encoded content exceptionally well. Bose TrueSpace spatial processing can automatically analyze sources other than Dolby Atmos, such as stereo or 5.1, and upmix them to create 7-channel sound. In addition to Atmos, supported codecs include Dolby Digital, Dolby TrueHD, and Dolby Digital Plus. Unfortunately, DTS and DTS:X are not supported.
Related: Dolby Atmos for Headphones: Dolby Atmos Explained
Even though the Bose 900 soundbar does not have side-firing speakers like the Samsung HW-Q900A, I didn't think it needed them. The Bose 900 uses psychoacoustic processing, which helps it deliver a broad and high soundstage. I felt the height channels went just above the TV, and the intensity can be adjusted, which is a plus. This will be very useful If you don't have enough height in your living room.
The sound can become a little muddy when watching a movie with a lot of music, action, and sound effects in one scene. I found myself having to lower the volume. It's also worth noting that this soundbar works best with Dolby Atmos. So if you can't receive Atmos because your TV is too old or you don't watch a lot of Atmos content, you won't get the most out of this sound bar.
I had mixed results when we tested the Bose 900 soundbar for music. Some genres, such as electronic and dance, lacked detail in the mid-range, but pop music and jazz sounded fantastic. Overall, I believe the Bose 900 performs slightly better with TV than with music. So, if you think TV will take a back seat in your listening, I'd argue there are probably better systems available. What was present in all of the music we tested was tight bass, clean kick drums, and clear vocals. However, listening to music at higher volumes caused some distortion and made the music sound harsh.
Bose Music App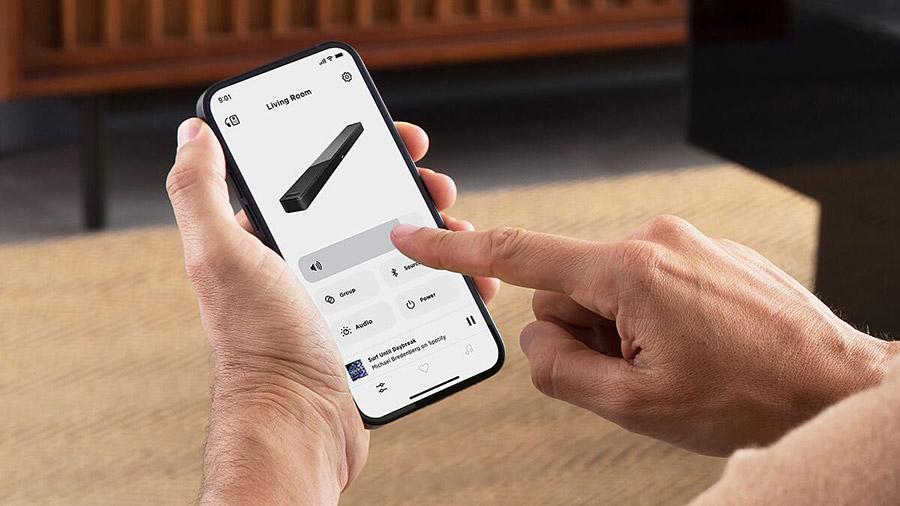 Let's discuss the Bose Music app and some of its unique features. I spent approximately five minutes setting up the soundbar, not including the 15-minute update. It was straightforward, and I could transfer streaming services from Spotify, Deezer, and Amazon Music into the Bose app.
I'm hoping they add more streaming services in the future because I enjoy being able to manage music using the Bose app. Because the Bose Smart Soundbar 900 has Bluetooth (4.2) and Airplay 2 built-in, it doesn't matter what music service you use as long as you're comfortable streaming over Bluetooth, Airplay 2, or Spotify connect.
Dialogue mode is another audio option available through the Bose app. This option improves the clarity and understanding of voices. This is beneficial while watching a movie or show with many conversations between characters.
If you have other Bose multi-room products, you can group audio to multiple rooms simultaneously or have different speakers playing different audio. Overall, I think the Bose music app is fantastic, and it should continue to improve with free software updates in the future.
Bose 900 vs Sonos Arc
Let's see how the Bose Smart Soundbar 900 compares to the competition in this category. The Sonos Arc has Dolby Atmos support and is in a comparable price range to the Bose. Honestly, neither of these soundbars is going to disappoint you. Both deliver a great listening experience. The differences are found in the details.
Related: See how Bose QuietComfort Earbuds compare to Galaxy Buds 2
When it comes to sound quality right out of the box, the Bose doesn't sound quite as good as the Sonos, but its ADAPTiQ technology is more in-depth than Sonos' True Play. Once the ADAPTiQ audio calibration process is done, the sound quality of these two soundbars is very similar. That said, the Bose 900 soundbar does have at least one significant advantage over the Sonos. It can change the center channel while the Sonos cannot. However, the Sonos handles complex scenes more clearly than the Bose and offers a slightly wider sound stage due to its sideways-firing drivers.
The Arc provides a more natural listening experience when listening to music. The choice between the two is based on whether you want to use the soundbar to watch TV or listen to music. Some people enjoy the sound of Bose, while others prefer the sound of Sonos.
There are a few things to consider in terms of features. Bose soundbars offer Bluetooth, whereas the Sonos Arc does not. The Bose 900, on the other hand, lacks DTS surround sound capability, but the Sonos S2 software adds DTS decoding to Sonos soundbars. The Sonos lacks a remote control, but if you connect the soundbar to your TV via HDMI-ARC, your TV remote will work automatically. It's also worth noting that both Bose and Sonos allow you to build a complete surround system with separate sub and rear surround speakers.
The Verdict
Who is the Bose Smart Soundbar 900 best suited for? This is a terrific option if you're looking for a quality soundbar that's easy to use, integrates into your home setup, sounds excellent with Atmos content, and allows you to stream music.
Some barriers associated with Bose's sound profile are broken down with the ADAPTiQ and customizable EQ. If you like the features and the audio technology it supports, the Bose Smart Soundbar 900 will be an excellent choice.