JBL Charge 4 vs Flip 5: Which Bluetooth Speaker Is Better?
JBL makes some of the best Bluetooth speakers on the market, and the Charge 4 and Flip 5 are two of their most popular models. They share a lot in common, they're both compact, portable, and durable.
However, the two speakers differ in important ways that can impact your buying decision. They're notably different in weight, battery life, and performance.
So which Bluetooth speaker is worth it? Both have their own advantages and disadvantages. We've tested them both to help you decide which Bluetooth speaker is right for you. Here are all the JBL Charge 4 vs. Flip 5 differences.
JBL Charge 4 vs Flip 5: Price
These two Bluetooth speakers have been out for more than a year and you can still find them in various retailers. The JBL Charge 4 retails for around $149.95 US dollars, but it's now available for as low as $108.95. The JBL Flip 5 retails for about $129.95 US dollars, though you can find it online for $100 US dollars or less. You can purchase an optional travel case for both speakers, but that increases the price.
JBL Charge 4 vs Flip 5: Specifications
JBL Charge 4
JBL Flip 5

Bluetooth version: 4.2
Frequency response: 60Hz–20kHz
Battery charge time: 4 hours
Battery life: 20 hours
Dimensions (in): 8.7 x 3.7 x 3.7
Weight: 2.12 lbs

Bluetooth version: 4.2
Frequency response: 65Hz–20kHz
Battery charge time: 2.5 hours
Battery life: 12 hours
Dimensions (in): 7.12 x 2.91 x 2.71
Weight: 1.2 lbs
JBL Charge 4 vs Flip 5: Design and Build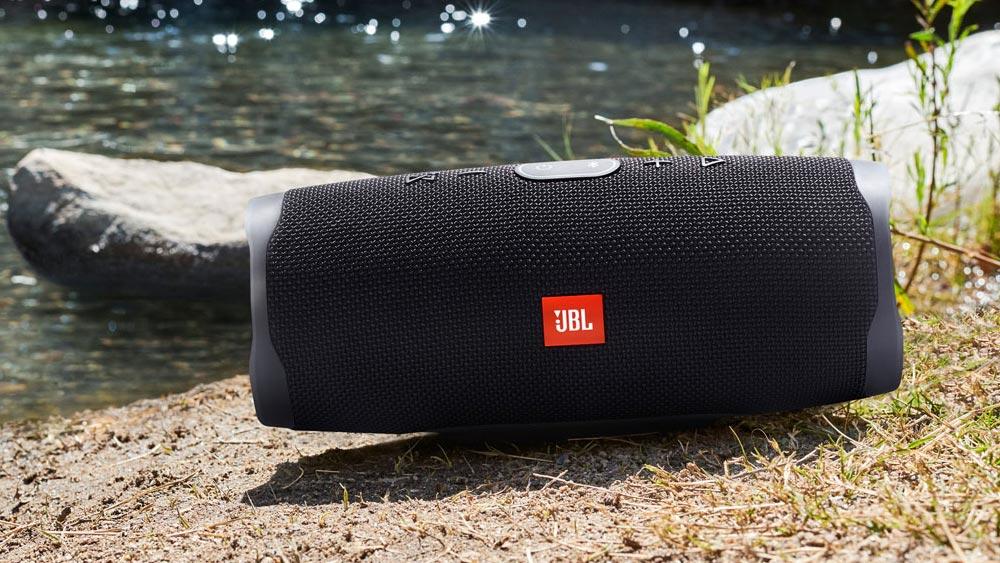 Weight and Size
When you pick up the Charge 4 and the Flip 5, the first difference you'll notice is the weight. The Charge weighs twice as much as the Flip. The Flip 5 weighs a little more than 1 pound, and the Charge 4 is just heavier than 2 pounds. Therefore, the Flip will undoubtedly be easier to carry by hand or toss into a backpack or bag if speaker portability is important to you.
Regarding the amount of room the speakers will occupy in your backpack or bag, the Charge 4 is approximately 8 1/2 inches wide, a little over 3 1/2 inches tall, and 3 1/2 inches deep. In comparison, the Flip 5 is slightly longer than 7 inches, a little bit taller than 2 1/2 inches, and just deeper than 2 1/2 inches.
Durability
The JBL Charge 4 features a stand on the bottom so you can comfortably rest it in a stable position. A plastic bar that runs down the rear of the Flip 5 is integrated into the design as support.
The Flip 5 and the Charge 4 are covered in the same wire mesh material, giving the Bluetooth speakers a higher degree of toughness and durability. The speakers each have the same rubber end caps covering the passive radiators on each end to protect them from bumps and being dropped.
Controls
The JBL Flip 5's main buttons are on the back of the device. The Flip 5's Power and Bluetooth controls sit in the center of the plastic bar that spans the back of the speaker. The JBL Charge 4's buttons, in comparison, are all easily accessible at the top of the device.
The rest of the buttons are embedded in the wire mesh. The Power and Bluetooth buttons are located in the center. Both speakers provide a largely comparable button array. Both have elevated plastic buttons for volume up and down and a Play button that starts and stops the music.
Waterproof Rating
The Charge 4 and Flip 5 both have an IPX7 rating, which means they can be submerged in water for 30 minutes up to 1 meter. They are also dustproof, making them perfect for usage in a garage or workshop and on the beach.
JBL Charge 4 vs Flip 5: Sound Quality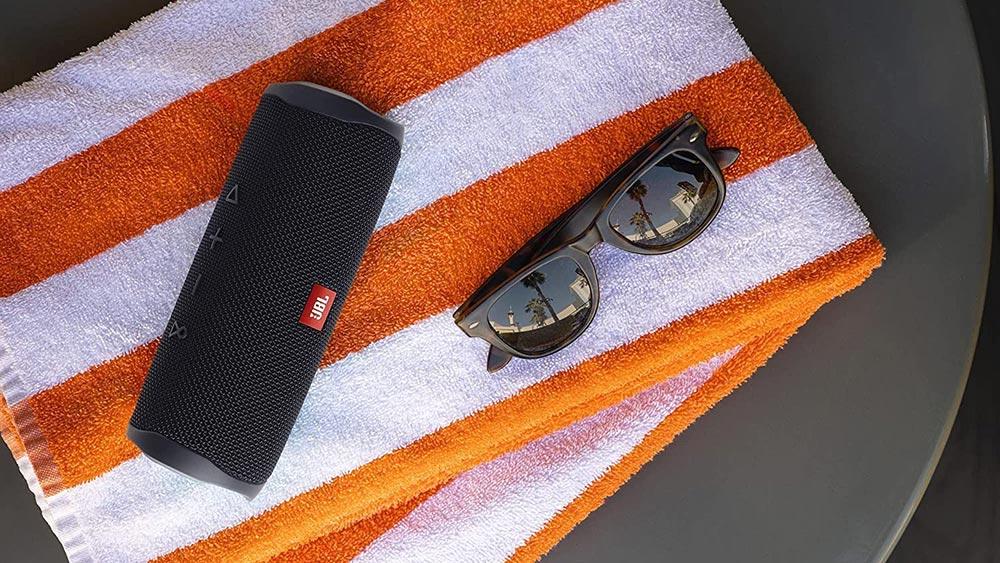 Clarity
Both speakers deliver clear sounds at all volume levels, but JBL's Charge 4 lacks some midrange detail. But if you're more concerned about speaker volume than clarity, the Charge 4 wins over the Flip 5. Considering that the Charge 4 delivers mono audio with its one driver, its audio performance is pretty outstanding.
Bass
Both speakers include side passive bass radiators that thump with your output. According to our JBL Charge 4 vs Flip 5 bass test results, the Flip 5 offers a stronger upper bass boost at low volumes, whereas the Charge 4 can sound thin. At full volume, the Flip 5 can't match the Charge 4, which has well-defined lower bass and sounds much more punchy. The Flip 5 is a fantastic speaker for its size, but it simply lacks the Charge 4's overall power.
Outdoor
JBL Charge 4 vs Flip 5 which is louder? If you plan to use the Flip 5 outside, it will be adequate for gatherings at the beach, park, or pool. You'll want the JBL Charge 4's output if you're throwing a sizable gathering outside. The Flip 5 cannot match the Charge 4 if you plan to use your speaker primarily outdoors for larger parties.
JBL Charge 4 vs Flip 5: Bluetooth Features
Both speakers support Bluetooth 4.2, and you can use the JBL Portable app to access additional features. Both speakers have dedicated pairing buttons if you'd rather connect them without using the app. The Charge 4 has a button for JBL Connect+, and the Flip 5 has a button for PartyBoost.
JBL Connect+ and PartyBoost do the same thing. They allow users to connect up to 100 JBL speakers together. Unfortunately, there is no way to connect these two speakers. Can the JBL Charge 4 vs Flip 5 connect? The Charge 4 can only connect to other speakers with JBL Connect+, and the Flip 5 will only connect to other JBL speakers with PartyBoost.
Related: How to Connect Two Bluetooth Speakers to One iPhone
JBL Charge 4 vs Flip 5: Battery Life and Ports
Battery Life
Regarding each device's battery life and charging time, the Charge 4 includes a large battery rated to power the Bluetooth speaker for 20 hours on a single charge. In contrast, JBL estimates that the Flip 5 can play music for 12 hours. Your actual battery life will vary depending on your volume levels and use. A USB-C port is used to charge both devices, allowing quicker charging. The Flip 5 charges completely in about 2 1/2 hours as opposed to the Charge 4's 5 1/2 hours.
Ports
The Flip 5's USB-C port is located on the plastic bar that runs across the back of the device. Instead of being hidden like on earlier JBL Flip models, it is exposed. Alternatively, you must remove a cover on the Charge 4 to reach the USB-C charging port. The Charge also includes a 3.5 mm audio input under the back flap for connecting to other devices that don't have Bluetooth. Additionally, it has a USB Type-A connector for charging other devices.
JBL Charge 4 vs Flip 5: Verdict (Which Is Better?)
Design and Build: When it comes to quality, design, and build, it's a tie. Both designs are similar to most of JBL's Bluetooth speakers. JBL's Charge 4 and Flip 5 are durable enough to receive a few bumps, feature user-friendly controls, and have an IPX7 waterproof rating.
Sound Quality: The Flip 5's bass output is sufficient for most small outdoor events and is a close match to the Charge 4. That said, the Charge 4 is better sounding overall. It's the louder of the two speakers, and its sound performance is quite impressive.
Battery: The Charge 4 has a larger battery than the smaller-sized Flip 5, and its maximum music playing time is 20 hrs. On the other hand, the Flip 5's battery life is estimated to provide roughly 12 hours of playtime.
Features: The Charge 4 and Flip 5 essentially offer the same features. The Charge 4 has the advantage of providing a 3.5 mm audio output jack and USB Type-A port for charging other devices. The Charge 4 (JBL Connect+) and the Flip 5 (PartyBoost) work with the JBL Portable app and can connect up to 100 JBL speakers simultaneously or simply two for stereo output.
Verdict: The best JBL Bluetooth speaker for you ultimately depends on how you plan to use it. If you want a speaker that's lightweight and easy to travel with, the JBL Flip speaker will be better. If you want a speaker with powerful audio and battery life, go with JBL's Charge 4. And, of course, any other compatible Bluetooth speakers you own that use Connect+ or PartyBoost should be factored into your decision.