Headset vs Headphones: Which is Better for Gaming?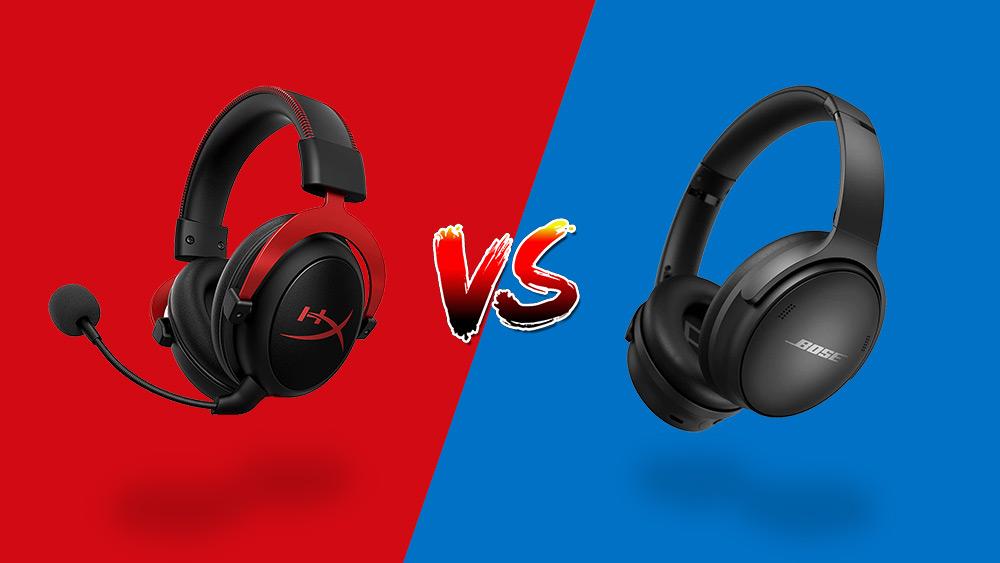 If you're ready to take your multiplayer game to the next level, one of the first choices you'll have to make is whether to purchase a headset or headphones. Both have advantages and disadvantages that you should be aware of before making a purchase.
Here, we break down all the differences between headsets and headphones by the audio quality, build, comfort, features, and more to help you decide which one is best for you.
Headset vs. Headphones: What's the Difference
Let's address the central issue straight away headphones and headsets are similar but different. They both refer to audio output devices you wear over or around your ears. Headphones might be wired or wireless and connect to your device using Bluetooth or a 3.5mm headphone jack. A headset is technically just a type of headphone that includes an integrated microphone commonly used for gaming.
Consumer Headphones
There are actually two types of headphones we'll be covering. The first type is consumer headphones like the Bose QuietComfort 45 and Sony WH-1000XM5. Consumer headphones are versatile, stylish, and affordable. These headphones are the kind you're most likely to see people carrying around their necks or listening to outdoors because consumer headphone manufacturers prioritize design and portability.
They're used by casual listeners who want to use them to listen to music on their phones and possibly for gaming the audio. The audio is decent, although it varies on the manufacturer and the price range. The downside is that they look cool but aren't very comfortable. Consumer headphones won't feel comfortable if you use them for a long gaming session.
However, if you prefer playing single-player games and listening to music/media, you should definitely consider getting headphones. You'll get better sound and portability for the same price as a headset.
Studio Headphones
The second type of headphones people sometimes buy for gaming are studio headphones like the Beyerdynamic DT 700 Pro X and Beyerdynamic DT 880 Pro. These types of headphones are actually not designed for gaming. They're made to hear vocals, voiceovers, podcasts, and other recordings with greater clarity and sound quality.
Unfortunately, paying extra money for studio headphones will not ensure you get the best gaming audio experience. They have an excellent build, but experienced sound professionals don't want the same sound as gamers. Gaming headsets need to be bass-heavy to help you become immersed in the gameplay but not too heavy that you drown out critical audio cues. You won't get that with studio headphones.
Professionals need headphones that can reproduce sound as faithfully and neutrally as possible, which is precisely what studio headphones offer. Therefore, not only are studio headphones more expensive, you won't enjoy using them for gaming. In addition, they can take away from your immersion and gameplay experience. Suppose you're planning to do any sort of audio editing. In that case, you should get studio headphones that offer the highest fidelity and the most accurate sound reproduction but aren't designed for gaming.
Gaming Headsets
Finally, there are gaming headsets like the Razer BlackShark V2 and HyperX Cloud II. Headsets generally have a bulky and aggressive design, making them visually unappealing and less portable to carry outside than consumer headphones. Gaming headsets have powerful bass, but the overall sound is not as good as similarly priced headphones. This is due to the narrow frequency response range on the dedicated headset mic.
On the other hand, headsets often include audio features like virtual surround sound capabilities. Headsets are more comfortable to wear than headphones, making them better for long gaming sessions. If you play many multiplayer games and enjoy a built-in microphone's convenience, then a headset is ideal.
Headset vs. Headphones: Audio Quality
There are two main camps in the world of gaming headphones: headsets and headphones. While the two serve the same essential purpose, some key differences sound-wise set them apart. For example, headphones typically have the best overall sound quality.
Headphones have a better-defined soundstage than headsets and are designed to give a premium audio experience for music and other media. Open-back headphones with an attachable mic like the Antlion Audio ModMic Wireless are perfect for gaming. Open-back headphones can allow gamers to hear game audio without missing what's happening around them.
On the other hand, headsets are bass-heavy and have 3D surround sound that can sound a bit muddy. However, headsets tend to have better microphones than headphones. The typical gaming headset includes a built-in mic with advanced noise cancellation and support for various game consoles and mobile devices.
Headset vs. Headphones: Build Quality
There's a lot to consider for headsets and headphones regarding build quality and construction. Headsets and headphones are designed to last, but you get what you pay for. Some headphones feature reinforced hinges and headbands.
On the other hand, gaming headsets are designed for comfort rather than portability, so if you drop them while traveling, they may break easier than headphones. Headphones also usually have a detachable cable, making them easier to transport and store. Gaming headsets typically have a permanently attached cable, which can be a hassle.
Headset vs. Headphones: Comfort
When it comes to comfort, headsets, and headphones, have some inherent differences. There are different materials to consider, from soft leather earpads to memory foam cushions. Not to mention different weights. Some headphones have been designed to be worn for a shorter listening time.
Some headsets are meant to be worn for hours at a time. That's why headsets tend to be more comfortable for gaming, even after hours of use. Some headphones are very lightweight and can be worn for a long time, but that doesn't mean they were designed with gaming in mind.
Headsets vs. Headphones: Features
While headsets and headphones have their own advantages, for starters, some headphones are lighter in weight than gaming headsets. In addition, headphones provide the best possible sound quality, while gaming headsets are designed to give you an immersive gaming experience.
Headphones support Bluetooth and active noise cancellation (ANC), which can be a lifesaver in noisy environments. Headsets offer better bass, immersive 3D surround sound, and a built-in microphone. Gaming headsets also provide a variety of features that cater to the needs of their gamers, like a volume slider, the ability to control presets, and a dedicated mute button. Headphones typically can adjust the EQ with a downloadable app that allows listeners to control bass, midrange, and treble.
Headsets vs Headphones: Price
Why are headphones more expensive than gaming headsets? The answer is simple: headphones are designed for music lovers, and gaming headsets are designed for gamers. Headphones are all about sound quality, and the best headphones on the market can easily cost hundreds of dollars.
On the other hand, Headsets manufacturers are less concerned with sound quality and more concerned with directional cues and comfort. As a result, gaming headsets tend to be cheaper than headphones. There are high-end gaming headsets that are exceptions that immerse gamers in virtual 7.1 surround sound. However, you'll have to pay a higher price if you want the best sound quality possible.
Headsets vs. Headphones: Verdict
Headphones and gaming headsets can be used for gaming, but they have different strengths and weaknesses. Headphones are typically better for music and movies, while gaming headsets are designed specifically for gaming. Headphones usually have better sound quality, but gaming headsets have features that make them sound great while gaming, like virtual surround sound, passive noise cancellation, and presets for sound customization.
Open-back headphones with spatial audio and a dedicated microphone are perfect for gaming. These headphones let you hear what's happening around you without removing the game audio. The acoustic properties of open-back headphones make them excellent for creating a wider soundstage with greater spatial imaging. However, this configuration can be a bit inconvenient and expensive. That's why most gamers choose gaming headsets.
Gaming headsets are less expensive and more convenient to set up than headphones. Plus, their virtual surround sound is often thought to be just as reliable when providing an immersive experience. So if you have a limited speaker system, a gaming headset may be the best option for you. But if it's audio quality that you desire, a pair of reasonably priced headphones will serve you well.